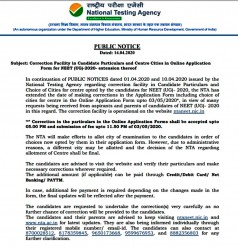 Friday, Apr 24, 2020 00:00 [IST]
Last Update: Friday, Oct 08, 2021 07:48 [IST]
Do you know that you can change the Exam City Center for this year's NEET? Also, read Coronavirus impact on the exam
People all over the world will remember the year 2020, not for good reasons, though. Coronavirus has taken over the world. This has led to the disruption of the Education System in India. This year
NEET has got delayed by NTA
till the last week of May 2020. With that, the release of the Admit card has got postponed till further official announcement.
But there is good news as well! Due to the continuous requests of the parents, NTA has opened the Application Form Correction window once again. You can now change your exam centre city and other particulars till 3rd May. This benefit is provided keeping in mind of the hardships to be taken by the applicants during this crisis.
NEET is an undergraduate, single entrance test offering admission in over 470 medical colleges all over India. You can contest over 66,000 MBBS and BDS seats through this exam. From 2020 onwards, NEET will also apply to AIIMS and JIPMER.
Take a look at some critical NEET dates of the year 2020
 The following updated dates of NEET are:
●        NEET Admit Card 2020 - To be announced, previously it was 27th March
●        NEET Application Form Correction Deadline - Till 3rd May
●        NEET Exam 2020 - Postponed till last week of May. Dates yet to announce
●        NEET Answer Key and OMR sheets - June first week, 2020
●        NEET results, 2020 - 4th June (Tentative)
NEET: Application Form Correction
As stated above, NTA has reopened the 2020 Form Correction window of NEET on 1st April. The deadline is until 3rd May. In between, you can make changes to certain particulars in the application forms using the facility on the official portal. Only registered applicants can use this facility.
Steps to correct 2020 Application Form of NEET
Please note the steps below:
●        First, please visit the Official Site of NEET- ntaneet.nic.in/ntaneet/welcome.aspx
●        Now, click on the "Candidates Login" link.
●        You must enter your application number and password.
●        Now, you will come across a link for correction. Click on that.
●        Correct your filled details in the application form as per the criteria set.
●        We recommend to fill the details cautiously and verify the same.
NEET 2020 Exam Centers
●        NEET aspirants must list at least 3 most suitable exam centres as their locations during registration.
●        NTA will allow you any one of the choices as your exam centres. But, it is entirely NTA's discretion which exam centre to allot.
●        All details related to the exam centre, essential guidelines, day and exam time, will be there in the NEET Admit card.
●        It is recommended that you visit the exam center once before the actual day of the exam to avoid confusion.
●        Candidates can pick their exam centers from here NEET 2020 Exam centers.
Please Note - Now, with the form correction window open, you can change your exam centres. You can also change other particulars like Name (Based on Aadhar Card), Date of Birth (Based on Aadhar Card), Gender (Based on Aadhar Card), State Codes of Eligibility, Category, Disability Status, Parent's Name, and Medium of Language. Additional fees may be applicable before the changes made.
Coronavirus Impact on the preparation of NEET exam, 2020
Corona has not only postponed NEET 2020 exam till last week of May but has also driven students to stay indoors. In such a situation, you may not be able to reach out to teachers in person for any doubts, and will not be able to attend tuitions. But there is a solution to it, let's discuss the ways to prepare NEET during this lockdown below:
●    Online Coaching is the new trend now - There are plenty of online education portals available with loads of content for NEET applicants. You can connect to Live Sessions of imminent lecturers to clear doubts and get suggestions on preparation strategies. It will also enable you to connect with fellow applicants and share critical topics and issues among each other to help prepare better. Some of the best-known education portals for NEET are Gradeup, Vedantu, NEET Prep.com, etc.
●    Online Self-assessment - This is the best way to prepare for any exam including NEET. There are various Mock Tests available on multiple platforms which you can take up. This will be like a real-life simulation of the exam. It will help you understand the pattern better and you can check your speed as well. You will find NEET Mock Tests on the NTA portal itself.
●    Previous year Question Papers - It is always important to check at least last 5 years questions for NEET. The basic source is the NCERT books of class 11th and 12th standard. This will give you an idea about critical topics and patterns of questions. Try solving these questions in a time-bound manner regularly during this lockdown period.
●    Find your comfort space at Home - Sometimes, a home can be disturbing with your family around. Someone may be watching TV, someone maybe shouting, maybe playing games or singing. So, we recommend finding a comfy and silent place in your home to avoid distractions.
●   Meditation and Yoga - Simple exercises like meditation and yoga can improve your concentration and calm your mind. It will also help you stay fit and maintain good immunity levels in such tough times. Such exercises will keep your mind free from any distractions from outside or social media.
Coronavirus thus, has impacted our lives and exams in a great way. But it has some positive points, this lockdown has made us think out of the box and innovatively. Thus, we will move towards progress only. For NEET applicants, you must utilize this period to prepare better, and take good care of your health to stay away from harm's way.