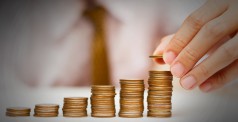 Tuesday, Jul 26, 2022 00:00 [IST]
Last Update: Tuesday, Jul 26, 2022 06:24 [IST]
Indians Have Selfish Views on GST Levy
If It Doesn't Concern Me - Push GST Rate Up to the Sky, If It Affects Me - Keep It Down
The majority of respondents to a recent online survey are willing to have the GST levy raised on online gaming and crypto, with some saying it should go higher than 50 percent, but oppose even a slight tax increase on everyday goods and services. Thus, people want GST revenues to be collected from someone else, as long as tax stays down on items they regularly use.
The study was conducted by LocalCircles, a social media for communities, governance and urban daily life, as they define it themselves, and received more than 34,000 responses.
Online Gaming Should Take the Main Hit, Majority Says
Out of a total of 12,097 responses, a majority of 79 percent wants the GST levy on all gaming forms, ranging from baccarat online and other casino games, to fantasy sports, ludo and chess, to be hiked. Nearly half, or 45 percent of participants, would be content if the highest existing rate slab of 28 percent reserved for luxury goods and services is enacted on games.
For almost one third of the respondents, however, this would not be enough, as 7 percent recommended a GST levy of 40 percent, and more than a quarter, or a whole 27 percent of the people who answered that question, said that gaming should be charged with more than 50 percent.
No opinion on the matter was expressed by 6 percent of the respondents, and 1 percent said that gaming should be exempt from GST. Low levy rates of 5 or 12 percent would be approved by 4 and 1 percent of the respondents respectively, while 9 percent of participants would agree to an 18 percent GST.
Currently, online skill gaming platforms pay 18 percent GST on their gross gaming revenue (GGR) or trade margins, while physical and digital casino and blackjack online India games, race courses and lotteries are charged at 28 percent over the full transaction values.
A Group of Ministers (GoM) under the lead of Conrad Sangma, Chief Minister of Meghalaya, was appointed by the GST Council in May 2021 to examine GST applicability and valuation matters related to online gaming, casinos, horse racing and lotteries.
According to media publications, the GoM has already submitted its report to the GST Council - India's apex body on indirect tax policy, recommending a uniform rate of 28 percent on all forms of gaming applicable only to the GGR, and not the whole face value of bets or tickets. The GoM proposal remains to be accepted by the GST Council and then the corresponding tax law amendments will have to be adopted by parliament.
Crypto Should Take It Hard as Well
Similarly to LocalCircles survey results concerning GST on gaming, the majority, or 60 percent of the 12,330 people who answered the same question about crypto, think that transactions with digital currencies should be taxed at a rate of 28 percent or higher.
Almost one fifth, or 19 percent of respondents, answered that GST on crypto should exceed 50 percent, 7 percent think a levy hike to 40 percent would suffice, and one third, or 34 percent, agree that cryptocurrency deals would best be charged at 28 percent GST.
A substantial portion of participants in the survey - 22 percent - did not have an opinion, 7 percent rooted for GST exemption, and a total of 11 percent answered that GST on crypto should be 5, 12 or 18 percent.
Reportedly, the GST Council is deliberating a 28 percent levy on transactions involving cryptocurrencies and digital virtual assets (VDAs).
Just Don't Touch GST on Shampoo and Toothpaste, Please
However, when it comes to regular, everyday goods and services, including normal household banalities like shampoo or toothpaste, the vast majority of respondents to the online survey were against any increase of the existing GST levy rates.
Out of the received answers, 71 percent opposed a raise in tax slabs from 5 to 7 or 8 percent, and from 18 to 20 percent. Most participants would rather favor a relief in the GST levy due to the high inflation rates and 70 percent reported that their monthly costs spiked with more than 10 percent in May.
Citizens Appear to Not See beyond Their Own Pockets
While it is undoubtedly important to probe and consider public opinion on matters such as taxation, authorities should base their decision making on research and careful deliberations, rather than on popular demand. As the results of the survey show, citizens rarely see beyond their pockets and do not realize the implications of what they are suggesting.
A 50 or more percent GST levy on gaming or crypto sounds like an absurd idea to many, as it would kick whole industries out of the market, cut down a number of jobs, and add fuel to the operations of the black market. Yet, that was the choice that 19 to 27 percent of respondents made.
At the same time, recent studies have shown that almost 70 percent of gamers are aged between 18 and 34. If the LocalCircles study represents all age groups equally, their sample would be biassed.
It would be like asking a majority of, say, sober people if they are in favor of increasing the tax on alcohol. Most likely everyone will agree on a higher tax, whereas the few people who drink, would not support the levy hike.