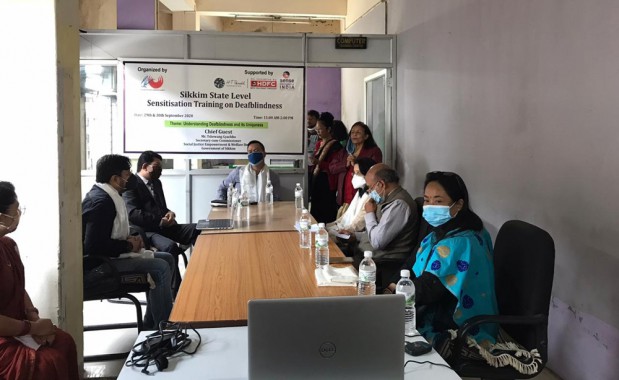 Wednesday, Sep 30, 2020 09:15 [IST]
Last Update: Wednesday, Sep 30, 2020 03:39 [IST]
10 people with Deafblindedness detected in Sikkim
DICHENONGMU
GANGTOK:A daylong State-level sensitisation training on deafblindedness for medical, paramedical professionals and government officials was held here today.
The event was organised by Sikkim DivyangSahayataSamiti and supported byAhmedabad-based Sense International India on the theme 'understanding deafblindedness and its uniqueness.' State Social Welfare secretary TshewangGyachho was the chief guest on the occasion.
The secretary, in his address, informed that Chief Minister P.S. Golay is very supportive and concerned about these children and has plans of conducting a State-level programme on December 3, World Disability Day in a grand manner in their honour.He further applauded the organisers for organising such an informative and unique programme of which even he wasn't aware of. It is such a good platform to come together and discuss about new subject like deafblindedness, he said.
Gyachho also highlighted how the Social Welfare department is prioritising the specially-abled children."We have been identifying and taking care of the specially-abled children as we don't want them to feel left out or neglected. We have a dedicated cell for them in the department and also taken up the responsibility of the Special School recently," he informed.
SamagraShiksha State project director BhimThatalhighlighted the role of the key departments - Health, Social Welfare and Education in uplifting these specially- abled children.He stressed on the New Education Policy which focuses on inclusive education and believes in giving common and equal platform to all the children. He further urged the parents of the specially-abled children to bring their children into notice while screening process and do away with the stigma of disability.
Sachin Rizal,head of capacity building, Sense International India highlighted the role of the organisation which is actively working on deafblindedness across 23 States helping the people with this combined effect of varying degrees of visual and hearing impairment.
In Sikkim, a total of 10 people with this combined impairment have been detected between 6 to 18+ years who will undergo training with them.
Joint Commissioner Dr. R.B. Chettri spoke on the importance of early screening and early identification and intervention of children focusing on vision.
Dr. Namita Subba and Dr. Raj PrabhaMoktan from National Health Mission spoke on the programmes undertaken by NHM for the deaf and blind people/children since the formation of their organisation.
Sikkim DivyangSahayataSamiti founder-director Draupadi Ghimirey highlighted how the organisation has been actively working in this field for the past several years. She recalled how it all started and now has been able to help several Divyangs through various programmes and treatments. She assured to work selflessly and also urged support from everyone in this noble cause.