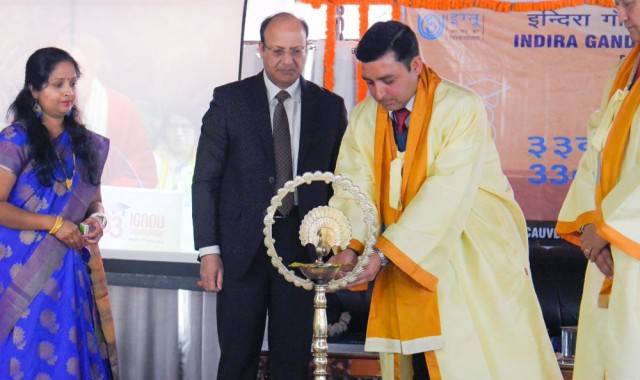 Tuesday, Feb 18, 2020 15:00 [IST]
Last Update: Tuesday, Feb 18, 2020 09:02 [IST]
1,031 students pass out from IGNOU
PANKAJ DHUNGEL
GANGTOK: Around 1,031 students received their degrees on the occasion of 33rd convocation ceremony of the Indira Gandhi National Open University (IGNOU), Gangtok regional centre, 5th Mile here today.
The IGNOU convocation was held simultaneously for 39 regional centres across the country and had a video message from Union HRD minister Ramesh Pokhriyal 'Nishank' as part of the convocation address from IGNOU Headquarters in New Delhi.
A total of 2.31 lakh students received their degree and diplomas across the country with 90 Ph.D, 13 M.Phil, 91,588 postgraduates, 81,403 undergraduates, 41,275 diploma and 17,253 certificates awarded on the occasion.
The event at the Gangtok regional centre had the presence of GP Pant Institute of Himalayan Environment and Sustainable Development centre head Rajesh Joshi, Sikkim University registrar T.K. Kaul and IGNOU Gangtok regional director Yonah Bhutia.
Those passing out from the Gangtok centre included 402 postgraduates, 461 undergraduates, 95 in diplomas and 75 certificate courses.
Rajesh Joshi, in his address, congratulated the graduating students and expressed joy in their commencement in a journey of translation education to the benefit of the world. "May every one of you realize your potential fully and wholly to make this country and the world a better place for all of us. A graduating student not only receives the degree but also a mark of wisdom which is imperative for inclusive growth of an individual, the society and the nation," he said.
Joshi also talked about noteworthy contribution made by IGNOU in offering higher education to citizens of India living in rural areas. He stated that it is a matter of pride for the country that IGNOU has revolutionised distance education in the country by adopting new technologies such as internet, satellite, CD-ROMs, video conferencing, radio and visual broadcasting on television.
IGNOU Gangtok regional director Yonah Bhutia termed the convocation as a 'joyous occasion' and highlighted the achievements of IGNOU which has given opportunity of education to millions of unreached citizens in the rural areas.
Sikkim University registrar T.K. Kaul congratulated the students and gave a brief history of the IGNOU during his address. He highlighted how education institutes like IGNOU and Central universities have provided higher education to those in needs across the country.
During the 2019 academic session, the regional centre received 5,300 enrolments with 10 study centres in four districts of the State providing 56 programmes under the open university, it was informed.