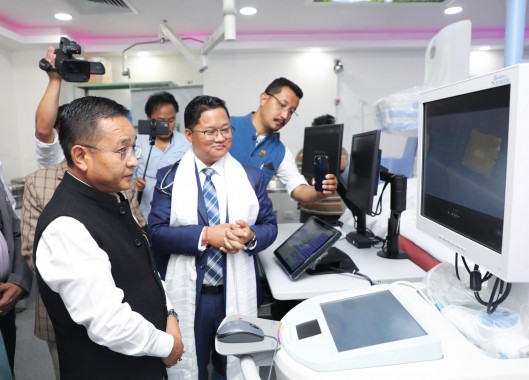 Monday, Jul 04, 2022 05:00 [IST]
Last Update: Sunday, Jul 03, 2022 23:22 [IST]
2019-2022: 1000 heart operational procedures milestone at STNM Hospital Cath Lab OT
BIJOY GURUNG
Even the highway to Siliguri tell stories of Sikkim's success in cardiology treatment
GANGTOK,: On National Doctors' Day, Chief Minister P.S. Golay recollected a random interaction at Kalijhora where he had stopped for momos on the way to Siliguri. By the time he boarded his official vehicle again, the conversation had "swelled his heart with happiness and pride" over the progress made in Sikkim's public healthcare sector, particularly interventional cardiology.
"Two days ago, I was going to Siliguri and stopped at a small eatery in Kalijhora to eat momos. There, a young person came forward and thanked me and the Sikkim government. I asked why he is thanking me and the Sikkim government. He replied that he had a heart problem and got treated at STNM Hospital in Sikkim. I received a good treatment in Sikkim and I returned home cured, he told me," shared the Chief Minister.
The Chief Minister was addressing the National Doctors' Day function on July 1 held at new STNM Hospital and attended by the medical fraternity of the State.
"I feel happy to hear such things from people outside the State. That person told me that the nursing homes in Siliguri had given an estimate of Rs. 4.5 lakh for his heart treatment. He was a poor guy and could not afford it. Someone told him to go to Sikkim for treatment. He did that and got treated on minimum costs for which he was grateful to the Sikkim government. Hearing this, my chest truly swelled with pride and for this, I give credit to all the doctors of Sikkim. Today people from neighbouring regions are coming to our hospitals for treatment and this is our major achievement," he said.
20%-30% operative load are from outside Sikkim
The Kalijhora youth was among the 1000th interventional operative procedures performed successfully by the Cardiology department, STNM Hospital at its high-tech Cath-Lab led by department head Dr. D.P. Rai, Sikkim's foremost and first interventional cardiologist.
The 1000th surgery milestone was recorded in the last week of June; a remarkable feat considering that interventional cardiology started only in April 2019 at the State's largest hospital.
As Dr. Rai shares, almost 20%-30% of the operative load of the STNM Hospital Cath lab consists of patients coming from neighbouring regions outside the State. They come from Darjeeling, Kalimpong, Kurseong, Siliguri, Dooars and as far as from Jaigaon close to the Indo-Bhutan border. There are also cases where the Cardiology department had to operate upon tourists who suffered heart attacks during their Sikkim sojourn.
"We manage to take care of maximum patients during our working hours due to a good working culture. Sikkim being a tourism destination, we have a large footfall of tourists. Some of them suffer from heart problems, sometimes even heart attacks during their stay here and we attend to them also. We take care of them as guests of our State and give life-saving treatment, emergency medicines and sometimes we do operations also and send them home in a stable condition," said Dr. Rai to SIKKIM EXPRESS.
As the reputation of STNM Hospital in heart treatment spreads, patients from neighbouring Darjeeling hills and North Bengal are making trips to Gangtok for consultation and treatment. This, Dr. Rai, believes is laying the foundation of medical tourism in Sikkim.
"The patients from outside the State are going home after giving good feedback. A concept of medical tourism is also starting. Daily families of 30-40 patients from outside Sikkim are coming to Gangtok, they halt for one night, get examined the next day and leave. They also need to pay fees as per government standard and in this manner, revenue is also being generated," said Dr. Rai.
'Competing with top cardio institutions'
Chief Minister P.S. Golay congratulated the Cardiology department, new STNM Hospital for the 1000 operational procedures at its Cath-Lab operational theatre.
"Previously, such cases had to be referred to metropolitan cities, but with the advent and availability of new facilities, treatment is being provided within the State. Our government is continuously working to further enhance the health facilities in the state, and I congratulate the entire Cardiology department, including Medical Officers, senior Cath-Lab technicians, Cath-Lab nurses, and nurses of Cardiology ICCU led by Dr. D.P Rai for their dedication and efforts," the Chief Minister had posted in his official social media account.
The Cardiology department, STNM Hospital has Dr. D.P. Rai as its head, Dr. Palden Wangchuk Bhutia (consultant cardiologist), four medical officers and four technicians along with nurses and paramedics. The entire team has a fiery zeal to compete with the best cardiology institutions of the country through constant updating on latest medical procedures.
"Medical science is always evolving. While we are giving our service to the people, we also update ourselves by attending conferences and see what other centres are doing. We try to keep on competing with other centres, see what AIIMS and big corporate hospitals are doing through new treatment modalities. We want to match with them and march ahead," says Dr. Rai.
At the same time, Dr. Rai opines that manpower should also increase to match the increasing patient load in coming days. There is a lack of specialists as there are very few who have studied and trained in this field for a long time, he said.
On the 1000th surgery milestone, the senior cardiologist observed that heart-related cases are increasing in the Sikkimese society due to economic and lifestyle changes. We cannot be happy with a large number of heart cases coming up as it needs to be pondered upon as to why we are having so many heart diseases in our society and it is also an indicator for people to take preventive measures, he said.
Dr. Rai said the successful journey from zero to 1,000 operative cases in a span of three years by the Cardiology department was due to solid team work. Credit goes to all the team members, doctors, technicians, nurses and others, it due to team effort we reached this milestone with minimum mortality rate, he said. He also thanked the State government and the Health department. We could achieve this with the support, high-end equipment and necessary consumables given by the department and the government and this is also the success of the department and the government, he said.
On the equipment front, the Cath Lab operation theatre was recently strengthened by IVUS (intra vascular ultrasound system) and electrophysiology study & radio frequency lab making the STNM Hospital the second such public healthcare institution in entire Northeast region to have such specialized facilities.
"Accuracy in examining heart problems is crucial and we had requested the State government for IVUS that can give further accuracy during heart operations. The IVUS was recently installed here along with the electrophysiological study & radio frequency lab. Both help us greatly in treatment accuracy and diagnosis fronts. This is the second lab in entire Northeast region to have such facilities," said Dr. Rai.
The Chief Minister inaugurated the IVUS along with electrophysiological study & radio frequency lab at the Cath Lab operation theatre.
"Our government is dedicated towards transforming the health sector in the State and the introduction of such facilities which were previously unavailable in North-Bengal and Sikkim will make contemporary health care services accessible for the public within the State," Golay had posted.
'Our biggest earning is public's love & trust'
Dr. D.P. Rai and his team regularly receive glowing feedback and adulatory response from the patients and their families after recovering from near-death stages under their care and expertise.
"I feel that respect, love and trust are the real things we have earned with our service. It motivates us to work harder. Patients are grateful and their good vibes give us strength and energy to work 12-14 hours daily," said Dr. Rai.
Dr. Rai adds the trust from the people empowers the medical team with confidence to tackle even the severest and risky cases. We get confidence to take the dying patients to the operation theatre because their family members trust us, he said.
The State's first interventional cardiologist, who hails from Bull-Singtam in South Sikkim, does not regret his decision to serve his home State when he had the option to work outside. "I gave my priority to work in my home State as Sikkim would have been deprived of my service if I had opted to work outside. It was my ethical responsibility to serve my home State. I don't regret this," he said.