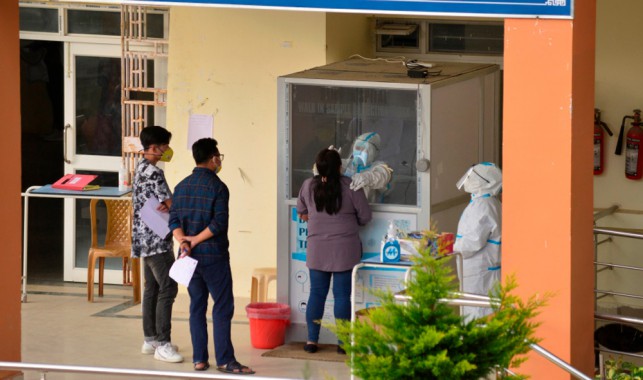 Saturday, Nov 21, 2020 13:00 [IST]
Last Update: Saturday, Nov 21, 2020 07:26 [IST]
24 new Covid cases, one more death in Sikkim
Staff Reporter
GANGTOK:A 40-year-old man has lost his life to coronavirus on Thursday after not taking proper medical consultation for the early symptoms. The resident of Singhik, near Mangan, had reportedly developed symptoms for Covid-19 a week ago and did not went to take a test, informed the Friday health bulletin.
He was rushed to STNMHospital at Gangtok after testing positive at Mangan district hospital on Thursday, but succumbed to the virus before he could reach the Covid-designated hospital.
"Apparently, he was symptomatic since past week but he didn't get tested and was under self-medication at home. Only after he had breathing problems, he visited hospital in Mangan and got tested," the Friday's health bulletin said.
The 96thCovid casualty in Sikkim was working at a private company.
State Health IEC officer Sonam G. Bhutia, in the health bulletin, appealed people to not take Covid lightly."Upon developing symptoms, please consult with your doctors once or visit the flu clinic at STNM Hospital where doctors are there to help you," he said.
He added thatif someone's family member isCovid positiveand wants to get themselves tested, they can contact near local Accredited Social Health Activists (ASHA), health officials or contact tracing members.
Meanwhile, Sikkim registered 24 fresh Covid positive cases from the 182 samples tested on Thursday. Among them, 20 are from east district, one each from north and west district, and two from south district.
The majority of the cases were from the capital region with three persons at Development Area testing positive, two at Tathangchen and one each at Daragaon, Metro Point, Joredhara, 6th Mile, Lingding, Baluwakhani, Sichey, Arithang and near Raj Bhawan gate at Baluwakhani.
Altogether, 4,632 persons have tested positive for the virus. With 4,186 recoveries so far, there are 265 active cases in Sikkim.