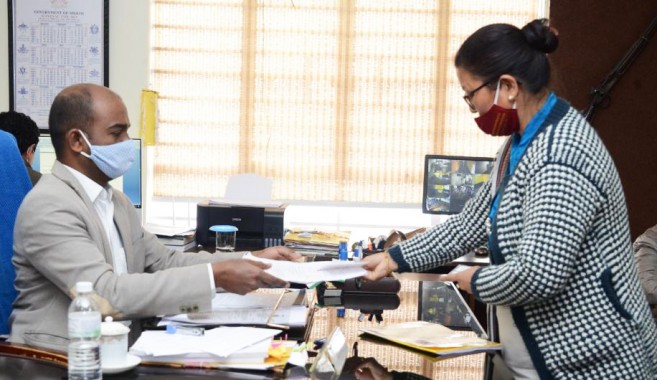 Friday, Mar 05, 2021 07:45 [IST]
Last Update: Friday, Mar 05, 2021 02:08 [IST]
27 file nominations for East civic bodies
KUNAL RAI
GANGTOK, March 4: A total of 27 candidates filed their nominations for the three urban local bodies of East Sikkim today. Among them, 17 nominations are for Gangtok Municipal Corporation, seven for Singtam Nagar Panchayat and three for Rangpo Nagar Panchayat.
SIKKIM EXPRESS spoke with some of the candidates who reached the East DAC, Sichey here to submit their nominations.
Rubina Gurung, 31 years, has filed her candidature from Lower Tadong-6th Mile ward. She thanked the State government for making the election non-party based which gives good opportunity for the independent candidates and youths to come forward. There are issues like drainage, road footpath and others as Lower Tadong ward has been newly formed and we feel can do a lot for the betterment of the ward, she said.
Sandeep Malu has submitted his papers for Upper M.G. Marg ward. The introduction of non-party based civic polls has given opportunity to educated youth to take part in municipal elections, he said. He spoke about the civic issues like frequent power cut, drainage, water supply and garbage management in his ward. If elected, I will try to address these issues with support of the government and make M.G. Marg a livelier ward, he said.
Similarly, Ramesh Kumar Agarwal, 51 years, has filed his papers for the Upper M.G. Marg ward.
"M.G. Marg is like my family. I have been actively working for the society for many years and I feel that I will receive support from all the voters of the ward. I want to work for the development of the ward in close coordination with the local residents," said Ramesh.
Chewang Thendup Lepcha, who submitted his candidature for Upper Tadong ward, said his focus will be on education sector. "Tadong senior secondary school in our ward requires urgent attention and our students are suffering there. There is no playground also. I plan to give the school top priority and make it best in all fields," he said. There are also civic amenities like drinking water supply, road and drainage that need to be upgraded, he added.
Gyamtso Bhutia, 45 years, also filed his nomination from Upper Tadong ward. "There are several issues in the ward like drainage system, garbage management, conservation of natural streams and improvement of Tadong school road which connects the village on the hill side. I plan to do my best in all sectors for the holistic development of our ward and will work in consultation with the ward residents," he said.
Similarly, Diki Bhutia has filed her nomination for Chandmari ward and also thanked the government for making the municipal elections non-party based. This has given opportunity to ordinary people to contest and work for the development of their local society, she said. She highlighted that Chandmari ward is facing problems regarding road, drainage and sewerage. I want to work to resolve these problems and in consultation with the local people, will initiate other activities for the development of the ward, she said.
For Rangpo Nagar Panchayat, those making their nominations today were Madan Kumar Karki and Badruddin Ansari for Rangpo Upper Bazaar ward and Sanju Manger for Majhitar ward.