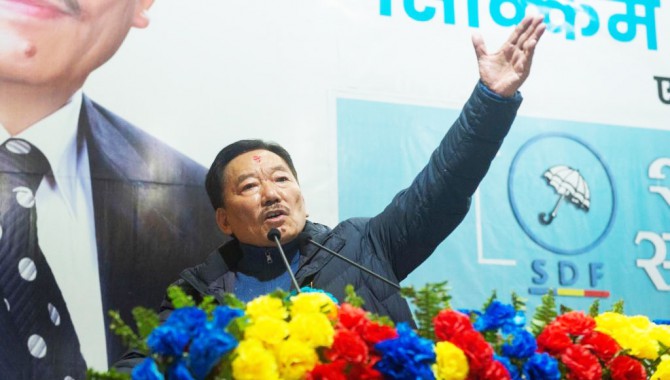 Friday, Mar 05, 2021 07:45 [IST]
Last Update: Friday, Mar 05, 2021 02:03 [IST]
29th SDF Foundation Day
BIJOY GURUNG
Lost one but will win 10 elections: Chamling
GANGTOK,: Former Chief Minister Pawan Chamling on Thursday directed the SDF workers to enter the field against the ruling SKM while maintaining that the front will make a victorious comeback in 2024 elections.
Chamling, also the SDF president, was addressing the 29th SDF foundation day programme at the SDF Bhawan here at Indira Bypass. It was also his first major public engagement after almost a year.
"SKM scored only suicide goals"
In speech, Chamling said the SDF had taken a conscious decision to give two years to the SKM government to meet the people's aspirations. "Public mandate had been given to the SKM and we did not interfere much. We left the field empty for the SKM for two years but they scored suicide goals repeatedly and brought defeats for Sikkim," he said.
"Now the SDF has entered the field with more energy and enthusiasm than before. We will score proper goals to bring victories for Sikkim. SKM was scoring only own goals and we had to enter the field to save the match for Sikkim. The SDF is fired up and our party workers have to now energize the people to remove this undemocratic government in 2024," said the former Chief Minister.
We will now do politics to save the existence of our people, to save their ancestral lands and to have rule of Sikkimese in Sikkim, said Chamling in his two and half hour long speech.
Chamling also dismissed the notion in Sikkim that a party cannot return to power after losing elections. "SKM is saying that SDF will not be coming back to government. People are not saying this. Only the SKM is saying this. Since when they have become fortune tellers or Nostradmus?"
He pointed out that former Chief Minister Late Nar Bahadur Bhandari managed to form the government one time after losing elections in past. Sikkimese people are saying that they want to bring us back to power, he said.
"Opportunities for youth in SDF"
Chamling said the SDF has been purified with the exit of its sitting MLAs, some former MLAs and party functionaries. "After we lost, our winning MLAs left us which caused some damage to the party. Some of our party workers and functionaries have also left the party. Whatever has happened, it was for good as now opportunities have opened for our youths. In 2024, many new youths would become ministers in our government. Our party has been purified and will now become a youth-oriented party," he said.
Chamling appealed the youths of Sikkim to join the SDF.
"You will be guided by our senior experienced leaders and we will make you capable leaders. SDF has history, has made history and has tested leaders for training the youth. We will hand over the SDF and Sikkim to our youth," he said.
Chamling said some party leaders and workers are unnecessarily feeling demoralized over the 2019 Assembly elections defeat.
"To win or lose in elections is part of a democracy. No sky has fallen on us with one defeat. We have won five elections so why worry over losing one? We have not lost our principles, we have not lost our efforts and have not lost our will. We have lost one elections but have the power to win 10 elections. SDF is not afraid. We will overcome this defeat," said the SDF president.
Chamling added the SDF will now work on collective leadership wherein he is the party president and all the members are leaders in the party. "All of us are answerable and accountable to the party and people. Any decision of the party will be taken collectively", he said.
"SKM acting as my publicity in-charge"
Chamling reiterated that SKM is obsessed in criticizing and badmouthing him on every occasion, which indirectly gives him free publicity across the State.
"During the SKM foundation day celebration held across the State, the SKM leaders had only one central point 'Pawan Chamling'. This shows that my name is enough as an opposition. I am only one MLA from SDF yet they seem obsessed with me. Why are they so afraid of me? The whole SKM team talks about me the whole day," he said.
Chamling recalled how the then Bhandari government used to criticize him in 1993 when the SDF was launched. It gave me good publicity that time, he said adding the same is being repeated by the SKM government.
"The present government spends its time in denigrating me. In a way, to badmouth me is beneficial for me, it is a good signal. The present government is doing free publicity for me. They are doing this every day and are acting like my publicity in-charge in every constituency. By doing this, they are not allowing people to forget Chamling," he said.
"Reinstate students, suspend principal"
Chamling, in his address, condemned the expulsion orders given to four students of Geyzing Government College.
During our government, we used to send children khoji-khoji to schools and gave them scholarship in top educational institutions both within and outside the State. This government is expelling students chani-chani from colleges in violation of their fundamental rights," said the former Chief Minister.
Chamling expressed his outrage over some students of Geyzing Government College being labelled as 'anti-national and terrorists' by the ruling front. The government must withdraw such statement and cancel the expulsion order against the four students, he demanded. He also demanded the Education minister and the Education additional chief secretary to visit Geyzing college and tender an unconditional apology to the students. The government must also suspend the college principal, he said.
"Massive corruption taking place"
Chamling contended that massive corruption is taking place in Sikkim. They used to accuse us on hydel power projects but the present government is selling the State's power equity to a company outside the State and Sikkim will not get any revenue, he said.
"The hydel power projects are like the proverbial goose that gave golden eggs. We had given to Sikkim hydel power projects that would generate Rs. 1 lakh crore in 100 years as revenue. The present government wants to kill the golden goose," he alleged.
The SDF president further accused the State government of selling the prime government land of Karfectar, South Sikkim near Jorethang.
"At Karfectar, we had set up a mother dairy farm and the capacity building institute. This prime land has been sold to a medical corporate for a cancer hospital. We must understand that it is a corporate house and as such, treatment would be based on money. Why are they selling the prime land?," he asked.
Chamling maintained that the Ridge Park of Gangtok has also been sold. "We had completed all the planning to transform Ridge Park into a no-vehicle zone so that it becomes a recreational spot for locals and tourists. However, the present government has sold the area. They have also sold the SNT land in Siliguri," he said.
'Fear for Sikkim's future"
Chamling started his speech on a teary note. He was sharing why he is still in politics despite being out of government when he became emotional and tried unsuccessfully to hold back his tears.
"I want to leave politics but I cannot leave due to my love for Sikkim and its people. I love the people of Sikkim and I am tied to them and hence I am still in politics. I am a targeted man and have to face more problems but despite this, I fear for the future of Sikkimese Janta. I fear that their existence would be taken away and I want to save them forever," he said on an emotional note.
Chamling had started his 29th foundation day speech at around 1:15 pm which he said, coincided with the time when SDF was launched at Ghurpisey near Namchi on March 4, 1993.
"It was exactly 1:15 pm on this day in 1993 when the launch of SDF party was announced at Ghurpisey. Such a coincidence as it is also 1:15 pm that my time has come to speak at the 29th SDF foundation day. The time of our party launch and the time of my turn to speak is the same. Looks like some invisible power is in play," said Chamling.