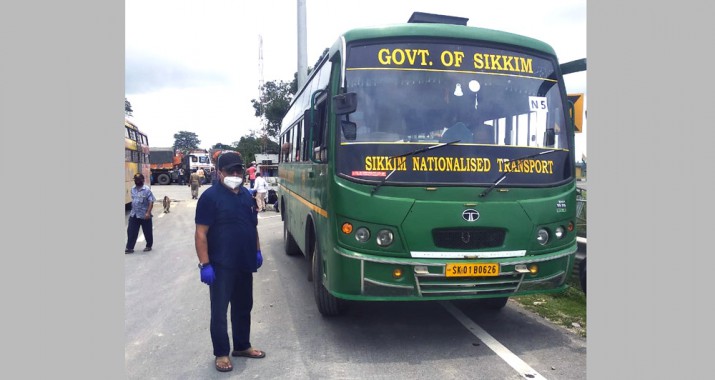 Monday, Jun 01, 2020 13:45 [IST]
Last Update: Monday, Jun 01, 2020 08:07 [IST]
33 stranded Sikkimese return home from Nepal
PRASHANT ACHARYA/IPR
SILIGURI: Thirty-three stranded Sikkimese returned from Nepal via Panitanki-Kakarvitta borderon Sunday.
Out of 33Sikkim residents,30 were from East Sikkim and three from south district. The returnees crossed Kakarvitta, Nepal and reached Panitanki, India on foot through the border.
The returnees were received by officials and staff of the Sikkimgovernment (SNT, Siliguri) at Panitanki from where they were brought back to Sikkim in two SNT buses.
SNT Siliguri deputy general manager Bhupendra Chhetri said, "Thirty-three Sikkim residents were evacuated today and the left-outs will be coming to Panitanki border on Monday. The two buses left for Sikkim from Panitanki at 3.15pm. There are stranded people of Sikkim and Assam who have been allowed by Nepal government to proceed to Panitanki from Kakarvitta."
On their way back, the returnees were provided food packets by the officers and staff ofKhoribari BDO office.
The evacuation was possible with the support of Panitanki police and SSB deployed along the border.