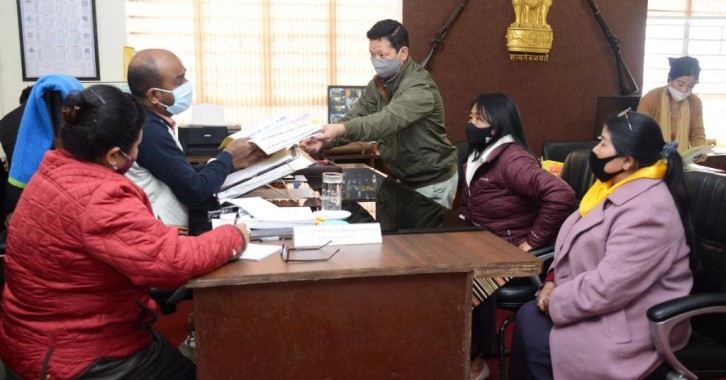 Saturday, Mar 06, 2021 07:45 [IST]
Last Update: Saturday, Mar 06, 2021 02:09 [IST]
43 nominations for civic bodies in East Sikkim
KUNAL RAI
GANGTOK,: Forty three candidates on Friday submitted their nominations for the three civic bodies of East Sikkim. Among them, five made their candidature for Singtam Nagar Panchayat while ten submitted their papers for Rangpo Nagar Panchayat.
Remaining 28 candidates were for different wards of Gangtok Municipal Corporation (GMC).
SIKKIM EXPRESS spoke to some of the candidates at the East DAC, Sichey here.
Pema Lhamu Lamtha, a tourism entrepreneur and social worker, has filed her nomination from Tathangchen ward. She is contesting an election for the first time.
"I feel the role of a ward councillor or ward panchayat is to serve the people of their locality and act as a bridge between the government and people. I have been engaged in social work for years. Seeing that this ward has been reserved for women, I thought of contesting with an aim to further serve the people of my ward," said Lamtha.
Lamtha thanked Chief Minister P.S. Golay and the State government for making the municipal elections non-party based. This gives opportunity to all to come forward to contest and win if they have support of the people, she said. She also thanked the Chief Minister and the State government for reserving more than 50% seats for women in the municipal polls.
Lamtha said she is well versed with the problems in Tathangchen ward being raised and married in the same locality. I will visit every house in the ward and will work in consultation with the people for the overall development of Tathangchen ward, she added.
Karma Tempo Rapgyal has filed his nomination for Arithang. He also thanked the Chief Minister and the State government for making the municipal election party-less. I have been working for the development of the local society and I feel that I can do much more for the Arithang residents if I contest and get elected as their representative, he said. Our ward has issues of water supply, electricity and other civic amenities and I would work to resolve these issues, he said.
Milan Gautam has filed his nomination from Daragaon-Lumsey ward.
"I want to upgrade the skills of our local youth under various schemes and make them employable so that unemployment problem is resolved to some extent. There are civic issues like street lighting, drainage, sewerage and road which I want to address in consultation with the people of my ward," said Gautam.
Former journalist Doncee Lama has also placed her nomination for Chandmari ward. She shared she is contesting the election as it would be held in a non-party based system and open for all aspirants.
"I have been active in social work in my ward and I wanted to take this opportunity to contest. I feel that it will encourage me to work more for welfare of my ward. There are many civic issues in my ward. I plan to work in close coordination with the government and in consultation with the people of Chandmari ward," said Lama.
Raju Tamang, 51 years, is contesting from ward number 2 of Arithang.
"I had planned to contest in past municipal elections also but could not do. This year the government has made the municipal elections apolitical which gives me an opportunity to contest and work for the development of my ward. I have been doing social work and people of my ward wanted me to contest. I will work as per the suggestions of the people," said Tamang.
Deo Kumari Pradhan, Ram Pradhan Basnet and Rajeney Gurung have also filed their nominations for Arithang ward number 2.
Rajeney Gurung, 50 years, mentioned that people who have been working for their ward and society are contesting in this apolitical civic poll. "The person who gets the support and is considered the best will be elected to serve the society. I have been working for my local society and decided to contest to contribute further. The local problems are familiar to me and I feel that these issues can be resolved working together with the people and government," she said.
Bimala Gurung, who filed her nomination from lower Sichey ward, said she is contesting considering the suggestion of the local residents. People of my ward had suggested to me to contest the election since they know my social work, she said. There are many problems being faced in lower Sichey ward which require special focus and I want to work to resolve them and develop the ward with support of the people, she said.
Bhaichung Tshering Bhutia submitted his nomination from Bhojoghari-2nd Mile ward. He also expressed that the apolitical municipal election gives an opportunity to people like him contest as independent candidates for the betterment of their wards.
Traffic management, water supply, drainage and power supply are some of the areas which require immediate focus and I plan to work on them as per the advice of the local people, said Bhaichung. I also plan to have a proper management of road between Tashi View Point and Ganesh Tok as this route is seen many accidents, he said.
As per an IPR release, nominations would be accepted on March 6 also from 11 am to 3 pm at the office of Municipal Election Returning Officer, East.