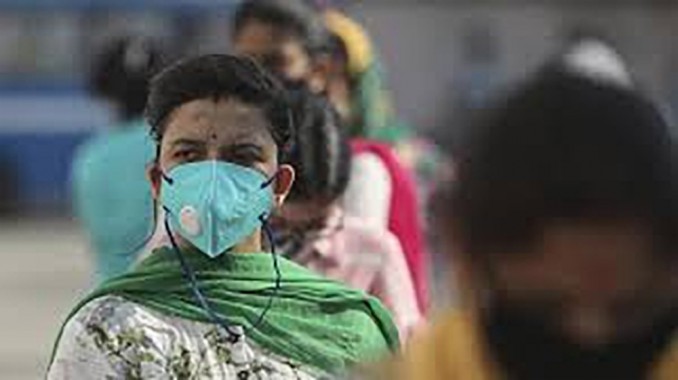 Wednesday, Oct 14, 2020 10:15 [IST]
Last Update: Wednesday, Oct 14, 2020 04:32 [IST]
55,342 new cases recorded as India shows declining trend of daily spike
New Delhi (IANS) India's tally on Tuesday mounted to 71,75,880 with a spike of 55,342 coronavirus cases, the lowest since August.
India recorded around 55,000 cases on July 31 (55,078), August 4 (52,050) and August 18 (55,079).
India is showing a trend of declining average daily cases over the past five weeks. After a month, on October 9, active cases fell below the 9 lakh mark and have steadily followed a downward slope since, the Ministry of Health and Family Welfare has said. Out of the total cases so far, 8,38,729 are currently active, 62,27,295 have been discharged, while 1,09,856 lost the battle against the pandemic.
While the recovery rate stands at 86.78 per cent, the fatality rate is 1.53 per cent, the data from the Ministry data showed.
Maharashtra continues to be the worst-hit with a total of 15,35,315 cases including 40,514 deaths; followed by Andhra Pradesh, Tamil Nadu, Karnataka, Uttar Pradesh and Delhi.
According to the data from the Indian Council of Medical Research (ICMR), India conducted 10,73,014 sample tests in a single day on Monday, taking the total number of samples tested so far to 8,89,45,107.

During the inspection across the border, when the Shahi-led team reached nearby pillar no 11, the Chinese side allegedly fired tear gas shells targeting them. "We noticed that a huge Chinese force was deployed across Nepal-China border," said Shahi, "We have poor presence on the border. Since the disputed area is far from human settlement, the Nepali side hardly rarely goes across for inspection owing to high-altitude, difficult geographical terrain, cold weather among others," he added.
"Some of our team members who had visited close to the pillar area had felt a burning sensation in his eyes and suspected that it might have been caused by tear gas canisters," he further said.