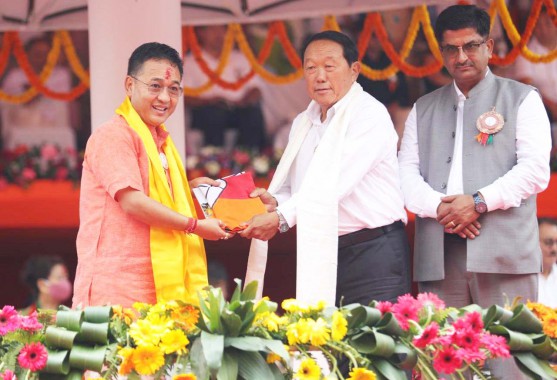 Thursday, Aug 11, 2022 09:00 [IST]
Last Update: Thursday, Aug 11, 2022 03:18 [IST]
5th Jan Unmukti Diwas: Former ministers, ex-MLAs joins SKM
DICHEN ONGMU
With people's blessing, I was successful in crushing Chamling's pride: Golay
JORETHANG,: The 5th Jan Unmukti Diwas celebration at Jorethang on Wednesday saw a bunch of former ministers, ex-MLAs and supporters of SDF being welcomed into the ruling SKM.
In total, about 1600 individuals from SDF and other political parties were inducted into the ruling front by Chief Minister and SKM president P.S. Golay during the mega event. Thousands of SKM workers from across Sikkim had assembled to celebrate 'Jan Unmukti Diwas', an annual party programme of SKM since 2018.
Those from SDF who joined SKM included former Speaker Kalawati Subba, former ministers Ran Bahadur Subba, Bhim Dhungel and A.K. Ghatani, former MLAs Deepak Kumar Gurung, Am Prasad Sharma, Puran Gurung and Madan Cintury. Former film board chairman Uttam Pradhan and prominent marathoner Amar Subba were also among those accepting SKM flags at Jorethang.
Addressing the mammoth gathering, Chief Minister P.S. Golay welcomed all the former MLAs and supporters of opposition parties into the SKM. He highlighted that inclusive politics has been a hallmark of SKM. We will continue with this ideology to work with unity and harmony for the welfare of Sikkim and Sikkimese, he said.
Golay maintained that the SKM respects the contributions made by the former MLAs and ministers for the development of Sikkim despite fierce criticism from the SDF against their former party leaders.
"SDF party functionaries were seen criticising and defaming the leaders who chose to join SKM. They should not forget that due to the support of such experienced leaders, they were able to stay in power for 25 years. We don't care if the SDF calls the former legislators as out-dated, rather we respect their contributions for the development of Sikkim," said the Chief Minister.
Golay also slammed former Chief Minister Pawan Chamling on several fronts. With the blessings of the people, I was successful in crushing the pride of Chamling and made his party irrelevant, he said. He also commented on Chamling's recent visit to Nepal for an award ceremony and alleged that the former Chief Minister has diverted Sikkim's money to casinos, hotels and malls in Nepal.
"I fear he will settle there. He is also eyeing at dampening the nation's security looking at his inclination towards Nepal", said the Chief Minister.
Golay, in his address, shared that youths would be replacing him in the party after his term ends.
"Youths are my replacement. I am open to having an alternative for myself. I firmly believe that youths from the public will replace me and not from my party, cabinet or my family. After my term is done, I will be a pillar for the party and guide it for the betterment of the State. I will not cry when I leave Mintokgang, I will leave happily," he said.
Golay remembered the days he had spent in Rongyek Jail adding it was a period of sadness for his loved ones and Krantikari friends. However, I chose to stay strong and happily stayed in the jail with the blessings of his supporters and well-wishers, he said.
"I thank all my Krantikari friends for their sacrifice and support which helped us come into power. Your love and faith has given me this golden opportunity to serve you all and I assure to serve Sikkim selflessly," he said. He termed 'Jan Unmukti Diwas' as a day of freedom and congratulated all for making it a day of victory and celebration.
The Chief Minister also highlighted that Sikkim is participating wholeheartedly to celebrate the 75th Year of Independence under Azadi Ka Amrit Mahotsav. "We are celebrating Har Ghar Tiranga from August 1, instead of the Central government's notified August 12-15. Every vehicle, household and office in Sikkim is hoisting the Indian flags with pride", he said.
Earlier, former SDF minister Ran Bahadur Subba slammed his former party and party president Pawan Chamling. He also endorsed the State's progress under the SKM government.
"SDF failed due to a coward and egoistic leader like Chamling who betrayed Sikkim after he lost his seat as the Chief Minister. Sikkim is progressing due to the farsighted vision of the youth leader PS Golay. We assure full support to SKM and pledge to work with full dedication and sincerity for the party and Sikkim," said Subba.
In his welcome address, SKM general secretary and minister Arun Upreti said the Jan Unmukti Diwas is an occasion to recall the sacrifices made by Golay and the struggles he faced. He maintained that Golay's imprisonment for one year was a conspiracy of the then government to weaken him and the SKM.
However, our leader continued his fight which further strengthened our party and our revolution, said Upreti.
"SKM party welcomes the new members from the opposition parties with open arms. We won't differentiate them as per their political inclinations in the past. We are now one and should work in unity for Sikkim," said Upreti.