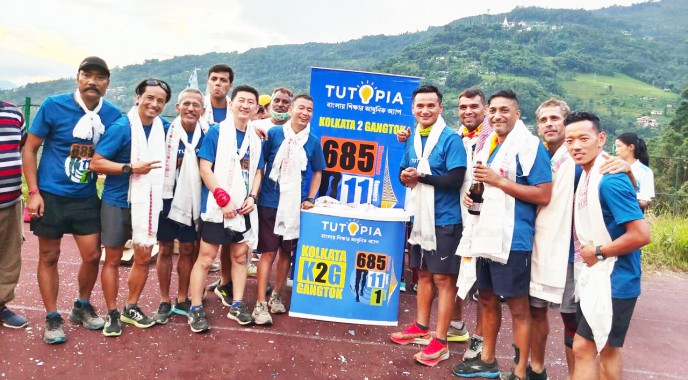 Sunday, Sep 19, 2021 07:30 [IST]
Last Update: Sunday, Sep 19, 2021 02:00 [IST]
685-km relay run from Kolkata to Gangtok
DICHEN ONGMU
GANGTOK,:
Eleven runners from Sikkim, Darjeeling and Kolkata successfully concluded a 685-kilometres relay race from Kolkata to Gangtok here at Reshithang ground on Saturday afternoon.
They started off the run on September 16 from Kolkata with an aim to complete 685 km (Kolkata to Gangtok) within 60 hours. The run was sponsored by Tutopia learning app.
"We all aim to achieve something impossible in life or set a record for oneself to look back and cherish and most importantly to inspire others. This run was exactly that source of achievement for me," said Sudarshan Tamang, one of the runners.
I am looking forward to take more such challenges in future and be a source of inspiration to others, added the Sikkim University professor.
Luv Burman from Kolkata said he started running for fitness four years ago and now he is participating in various runs challenging himself every day.
Col. Bhupendra Hang Subba shared, "We were promoting health, fitness and education through this run. The idea was to have a proper balance between the hills and plains runners and this is how the team was formed after six-month-long planning. It was definitely challenging but if anybody is willing to do it, can do it."
The runners were accorded a warm welcome by local running groups by offering khadas, at Reshithang ground.