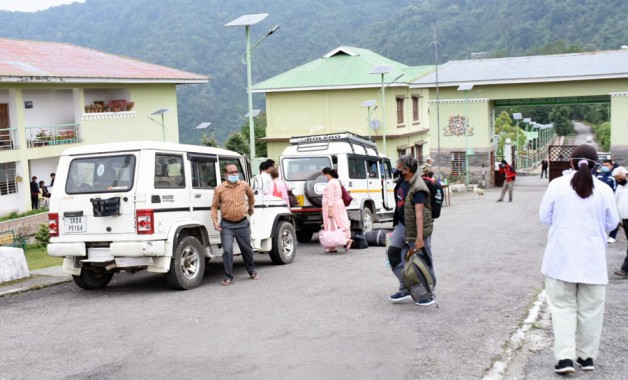 Thursday, May 21, 2020 15:00 [IST]
Last Update: Thursday, May 21, 2020 09:20 [IST]
77 persons discharged from ICHAE quarantine centre
NAMCHI (IPR): A total number of 77 people belonging to various parts of South Sikkim completed their mandatory 14-day quarantine period at ICHAE, Chemchey today.
It maybe mentioned here that these people had been staying in facility quarantine as part of a mandatory procedure for people travelling inter-State as per the protocol issued by the State government. After completing this institutional quarantine, they shall further undergo 14 days of home quarantine as a precautionary measure.
The entire exercise was overseen by District Collector (south) Ragul K in the company of SDM (HQ)-cum-Nodal Officer (Quarantine Centre) Chiran Rizal and deputy director& in-charge Kazi Sherpa and Dr. Chewang Palmo Chingapa alongside a team of medical officials and support staff.
In the course of the discharge of the 77 people, it was ensured that they were properly checked by the medical team posted there and they were also duly briefed about the importance of hand hygiene, social distancing and other preventive measures.
Addressing the returnees, the DC advised them to strictly adhere to the guidelines of home quarantine for the next 14 days. He also stated that necessary commodities will be delivered to them during their period of home quarantine so as to avoid social distancing breach.