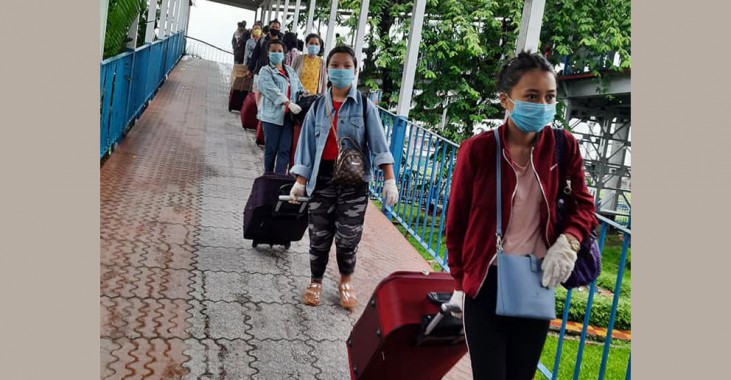 Saturday, May 23, 2020 13:45 [IST]
Last Update: Saturday, May 23, 2020 08:01 [IST]
814 from Bengaluru reach home, special train departs from Chandigarh
SE Bureau
GANGTOK/SILIGURI: At least 814 Sikkimese people stranded in Bengaluru and several other parts of South India returned to the State by a special train on Friday. They reached NJP railway station in the morning hours where they were received by the officials of the Sikkim Transport department and volunteers assigned to provide assistance. The passengers were shifted in batches from the train to the SNT buses after thorough medical screening at the railway station.
Of the total 814 returnees, 439 people from south and west districts entered the State through the Melli checkpost, while 375 returnees from east and north districts entered through Rangpo checkpost.
Bhupendra Chhetri, DGM of Sikkim Transport Department, Siliguri informed that among 814 passengers who reached NJP, 811 were accommodated in 24 government buses while three pregnant women wished to travel in private cars to reach till Sikkim border. He added that 24 people who came from Himachal Pradesh on Thursday evening were also sent this morning by two SNT buses from Siliguri.
Meanwhile, a special train carrying Sikkimese people departed from Chandigarh today. The train will make stoppages at Ghaziabad, Moradabad and Lucknow before reaching New Delhi Friday night, and will finally make its journey towards NJP.
New Delhi-based Sikkim House has made necessary correspondence and arrangements to ensure that all the people stranded in Delhi and adjoining areas are accommodated in the special train, duly following all the required formalities.
As per information received, 507 people reported for screening at New Delhi of the expected 921. Special buses were arranged to ferry the people to the railway station.
The screening started at 8 am and closed at 5.30 pm.
Sikkim House provided lunch and snack pack. The coordinating team which was assigned lent all the necessary assistance to the people and seven coordinators will be travelling with the returnees. All the people have been advised to keep the doors locked. Railway authorities have been requested for ensuring safety of the train. The Uttar Pradesh government has been requested for smooth boarding at Ghaziabad, Moradabad and Lucknow stations.