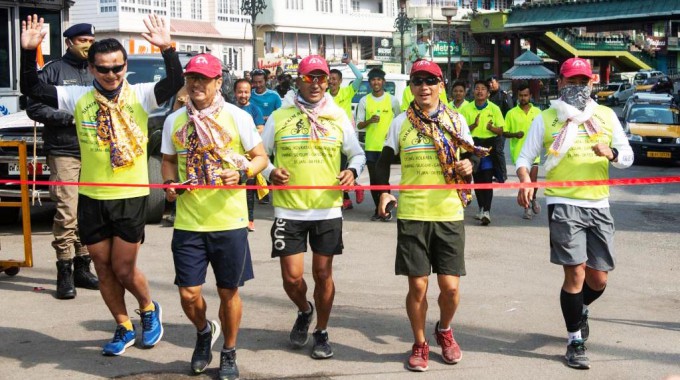 Monday, Feb 08, 2021 07:30 [IST]
Last Update: Monday, Feb 08, 2021 02:00 [IST]
A lockdown joke turns into a challenge and here they are… cycling & running all the way from Kolkata
Sikkim fitness quintet completes 700 km dualthon
GANGTOK,: A journey of 1,000 miles begins with a single step. For the fitness quintet from Sikkim, their nearly 700-km duathlon from Kolkata to Gangtok started with a single pedal push at Victoria Memorial Gate on January 31.
Cycling around 583 km through the highways of Bengal, the Sikkim group reached Siliguri on Saturday where they discarded their cycles. They then ran uphill towards Sikkim and hometown Gangtok covering around 115 km. The eight-day dualthon culminated at M.G. Marg here on Sunday morning where the athletes were warmly received by Project Life members and others.
The expedition members were Bhupendra Hang Subba (a senior government employee based in Kolkata) and his brother Nreependra Subba, academician and musician Dr. Sudarsan Tamang, entrepreneur Allen Targain and State senior athletic coach Basant Pradhan. Their dualthon was aimed to spread awareness about Fit India and promote organic Sikkim and held under the banner of Sikkim Running Group.
"How the expedition started is an interesting story. During the lockdown I was in a video call with someone when he jokingly said I could come home from Kolkata running. I am an athlete and was posted in Kolkata. That's how the idea of the duathlon came about. I was the only one then and I communicated my idea to one of my team members and slowly formed a team of five like-minded athletes. We started our journey on January 31," expressed Bhupendra Subba who mooted the expedition.
The members shared that Kolkata to Gangtok experience was rewarding and the most important lesson learnt was collective teamwork. "Some fell down, some got serious injuries but we still continued through each other's support and encouragement. We cycled together, ran together and completed the duathlon together. It was a collective effort and we are proud of each other," they said.
The team thanked Kolkata Roadrunners for organising the flag-off ceremony and attending in numbers, Roshan Chettri who was the administrative support throughout the expedition, supporters and friends.
BHUPENDRA SUBBA
43 years, Gangtok
The journey was a hectic and tiring one, but enjoyable at the same time. With the kind of team we had, we thoroughly enjoyed the journey. The expedition had many challenges, starting from accommodation, stress factor etc. The expedition was a long one but we had to cut it short. There were days when we covered longer distance in a day. It was tiring. My brother, Nreependra was part of the team and it is always good to have your blood brother by your side while doing crazy things.
I have suddenly realised that your body can endure so much. We can push our body to a limit and your body can still take it and your body can still take it and is ready for more. For the future there are many crazy ideas cooking up for future.
NREEPENDRA SUBBA
41 years, Gangtok
I have always been prone to injuries. On the second day, I fell off the bike and hurt both my knees. I thought that I wouldn't be able to complete the expedition, but somehow I was able to continue and complete the duathalon with my teammates. We tried various Bengali cuisine and they were very good, stayed in many unknown locations and witnessed good rural parts of West Bengal.
People throughout our journey were very supportive and didn't have any issues in terms of hospitality. Everybody was cheering for us, which felt good.
There were many re-dos in the plan and we had to shorten our expedition by a day. Overall it was fun, but yes we did complete the expedition.
My brother and I had enrolled for Ironman triathlon in Goa which got cancelled due to Covid. We will be automatically re-enrolled as-and-when it happens.
ALLEN TARGAIN
57 years, Gangtok
Anybody can achieve anything if they have the will to do it. Team effort is also equally important. We had a really supportive team where we kept supporting each other. When one was low, the rest of us were always ready to lift his mood and motivate him. My target is to go for mountaineering at around 18000-20000 feet.
DR. SUDARSAN TAMANG
39 years, Darjeeling/Gangtok
The duathlon is totally a team effort. The organisers had decided to include only selective athletes because of the pandemic and I am glad that I was selected. The journey was stressful and tiring as we were covering almost 100 km a day. It was stressful for the body but as we completed the expedition I feel a sense of happiness. We have always travelled to Kolkata via airplane or train, and cycling along was a wonderful experience. We witnessed various locations we were unknown of. We also witnessed various projects.
I am an athlete and have been participating in marathons for many years. I am also a trained swimmer so I want to participate in the Ironman triathlon.
BASANT PRADHAN
42 years, Gangtok
The experience was wonderful. We had never thought that we would receive such a grand flag-off by Kolkata Roadrunners. Many sports lovers had come and they joined us and cycled 30 km with us.
The journey was tiring as we were cycling for 6-9 hours a day, which in itself was stressful. Torturing our body for almost a week was tiring and exciting at the same time. At times our body gave up, but our minds were stronger and that's how we completed the expedition.
The best part was none of us gave up and all of us supported each other
I am also trying for the Ironman triathlon.