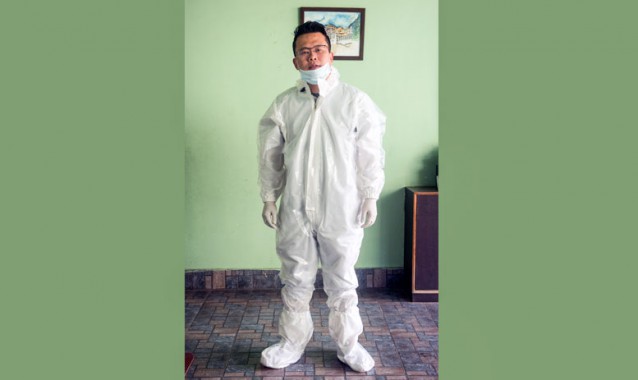 Friday, Apr 03, 2020 13:30 [IST]
Last Update: Friday, Apr 03, 2020 07:51 [IST]
A STITCH IN TIME SAVES NINE
Dr. Karma Loday comes up a personal protection suit prototype for Corona fighters
PANKAJ DHUNGEL
GANGTOK: Necessity is the mother of invention.
Eye specialist Dr. Karma Loday Bhutia has created his own personnel protection suit that he intends to wear while dealing with COVID-19 related activities at the State-run STNM hospital here. He believes that the suit could come handy, in case of no other alternatives available, for the second-line workers on duty at the present situation.
After two trial and error runs, Dr. Karma Loday, a resident of Daragaon, Tadong here was satisfied with the third result of his design and got it stitched from local tailor Abdul Karim based at Sichey.
The suit is water resistant and is made of non-porous material.
Speaking with SIKKIM EXPRESS on Thursday, the 40-year-old ophthalmologist of STNM hospital mentions that his suit is not a substitute to the Health department-prescribed PPE (Personal Protection Equipment) suit. It is something that can be considered for the second-line workers in hospitals from cleaners to emergency responders or those engaged in border checkposts including police personnel.
"You can consider that if more of these personal protection suits are made, they can come in handy for the second-line COVID-19 workers. These can be used by the hospital guards, flu clinic wards, emergency services, ward sisters, ambulance drivers, and cleaning staffs. At present in hospitals, you do not know who could be coming with COVID-19 symptoms. Being an ophthalmologist, we attend a lot of emergencies; we come in close contact with the patients. It's locally made and it seems good enough as it is water-resistant and non-porous, but still not a substitute to a certified PPE."
"PPE is for those who are working in isolation wards or an ICU setting. We do have sufficient PPE and various grades of the same, smaller to hazmat suits. This idea was generated with my like-minded friends and after seeing the videos of the condition of PPEs in other places of the country. They have been using raincoats, and what we have developed is better than the raincoats," said Dr. Karma Loday.
The personal protection body wear developed by Dr. Karma Loday consists of two layers - the inner layer includes a fine plain cloth while the outer layer of a thick plastic material.
"The fine cloth gives us some flexibility; the outer plastic material went through the screening. The plastic could not hold on to the stretch while we were sitting and the same tore apart in our first attempt. The second prototype was not flexible enough, it was uncomfortable. But, the third prototype has checked on all the pointers and I am already getting more orders from among my doctor friends, with them placing 6 orders".
Dr. Karma Loday shared that given the lockdown, he was able to aid the tailor to earn some form of remuneration. "Ideally the suit is costing me something under Rs. 1000 but with bulk orders, the cost could substantially come down. Tailors are currently sitting idle and it becomes a help to the health workers in this time of need and they can generate incentive out of it," he said.
The suits need to cover the entire body.
"The consideration with wearing the suit is that, we the frontline workers should not be exposed to hazardous material or any droplet from the COVID-19 patient comes in touch with the health worker. It is not confined to health workers, it can be used by veterinarians and foresters treating animals."
It is advisable to dispose off the suit after being used once. For re-use, it was suggested that the suit can be soaked in detergent for 24 hours and wash it and dry for 12 hours. Or one can soak in sodium hydrochloride solution if available.
Dr. Karma is a reputed ophthalmologist working in the STNM hospital since 2019. He has previously worked with National Health Mission from 2009 to 2013, following which he worked with CRH Manipal here for six years before joining the new multi-speciality STNM hospital, last year. He is also inclined on developing a face shield in the days to come.
Health director general Dr. Pempa T. Bhutia welcomed the welcomed the initiative taken by Dr. Karma Loday. He highlighted that such initiatives along with similar innovative solutions are being undertaken by the healthcare workers in Singtam and Geyzing, West Sikkim by developing healthcare solutions in this time of need.