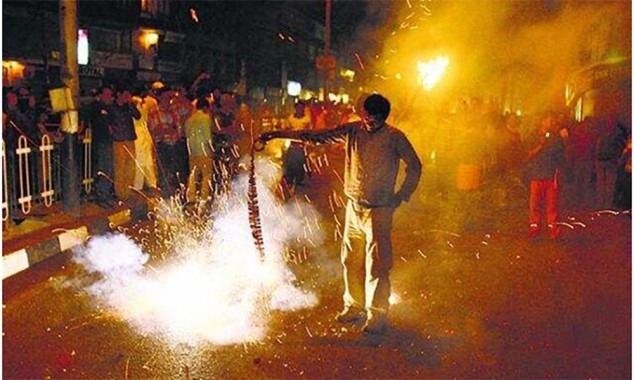 Sunday, Nov 01, 2020 12:30 [IST]
Last Update: Sunday, Nov 01, 2020 07:01 [IST]
A war against pollution
PRIYANKASAURABH

Delhi Chief Minister ArvindKejriwal has started a 'red light on, cart off' campaign in the national capital. This is a part of the 'war against pollution' campaign against pollution. We all pledge to stop our vehicles at red lights. Every person's effort will contribute to reducing pollution. 13 hotspots have been identified in Delhi. Each hotspot will be planned separately. The Delhi government will also launch a 'Green Delhi' app. One can complain about pollution on this. The government is also bringing a tree plantation policy. Under this, 80 percent of the trees to be cut will have to be transplanted along with planting 10 new saplings instead of cutting down trees.



Every year, fireworks in Diwali spread mist in Delhi, warning of the health risks of air pollution, especially children, the elderly, and people with underlying diseases. The difference this year is that there has been a slight reduction in pollution due to COVID-19, but now that the opening of the lockout is expected to increase air pollution, the Delhi administration has started a big anti-pollution campaign. According to air quality data compiled by the World Health Organization, Delhi is one of the most polluted cities in the world.

The case of PM 2.5 and PM 10 in Delhi every year crosses national standards and World Health Organization boundaries. Now Delhi needs a 65% reduction to meet national standards for PM2.5. Delhi's toxic air also contains high amounts of sulfur dioxide and nitrogen oxide. The Ministry of Earth Sciences published a research paper in October 2018, covering about 41% of vehicle emissions, 21.5% dust, and 18% industries.

According to a WHO survey, India has the world's highest mortality rate from respiratory diseases and asthma. Air pollution affects the environment at low visibility, acid precipitation, and tropospheric levels. The Delhi government has recently launched a major anti-pollution campaign, with a tree transplant policy against pollution, construction of a smog tower at Connaught Place (Delhi), promotion of electric vehicles, and burning of debris.

Delhi's poor air quality deteriorates even more during the winter season. Such is the deadly smoke from thermal plants and brick kilns in the National Capital Region, as well as chemical wastes from nearby states. Before Covid-19, air pollution was severe. Particulate matter, PM 2.5 and PM 10, exceeding national standards and stricter World Health Organization limits need to be set.

Delhi's toxic air has high amounts of sulfur dioxide and nitrogen oxide. Today Delhi needs a 65% reduction to meet national standards for PM2.5. Vehicles, including trucks and two-wheelers, are up to 20% –40% in PM2.5 concentrations. According to Bangkok, Beijing, and Mexico City, part of the agenda to tackle vehicle emissions will have to be made.

We now need to introduce emission controls and tougher penalties. Beijing did this by closing two-wheeler and three-wheeler cars and lorries. Bangkok accelerated emissions reductions and maintenance. Therefore lessons should be taken from his BRT experience of designing better BRT lanes in Delhi, improving ticket system, and synchronizing with Metro. The Supreme Court's decision to increase Delhi's bus fleet and align it with the metro network should be met. The odd-even 'number plate policy may help, but the system should reduce the exemption.

There is an agenda to cut air pollution by one-quarter to one-third by 2025. This includes the promotion of electric vehicles (EVs). This would require subsidies and investment to use EVs on a meaningful scale to charge them without fossil fuels. The three-year policy of the Delhi government aims to create an EVS account for a quarter of new vehicles registered in the capital by 2024. EVs will benefit from incentives, benefits on older vehicles, loans on favourable interest, and exemption of road taxes.

Delhi has emission standards, public transport, and electric vehicles to combat pollution. Delhi's long-term solution will also depend significantly on eliminating emissions from transportation. Transport solutions should be a part of the pollution eradication that includes industry and agriculture. Delhi's actions will not be effective if the pollution of neighbouring states is not taken into consideration. The emission standard includes public transport and electric vehicles in a three-part action to combat vehicle emissions.

The three-part action to combat vehicular emissions includes emission standards, public transport, and electric vehicles. The Supreme Court's decision to increase Delhi's bus fleet and align it with the metro network should be met. There is a need to reduce technical solutions through coordination and transparency in central, state, and local governments. Citizen participation and media are important for sharing messages on pollution and health using data such as the Central Pollution Control Board. Today we have to give priority to the health and bright future of the people. Delhi should now fight pollution with the epidemic.

The time to act is now. Every year, domestic and foreign reports tell that the cities of India have the worst air in the world, and this situation is getting serious day by day. The burning of straw in North India remains in the headlines as an important reason for this. Even after the intervention of the Supreme Court, the burning of the straw is not stopping. We have seen that we cannot fight this problem only by court orders. That is why every year there is chaos on this issue. Despite this, the problem remains as it is.

Straw only is not the root of this problem. Factories, vehicles, and industry are to blame for the toxic air. Seeing all these in one frame, we have to apply strict rules for everyone. Along with this, we all need to be self-aware. Only then we will be able to win this war against pollution.