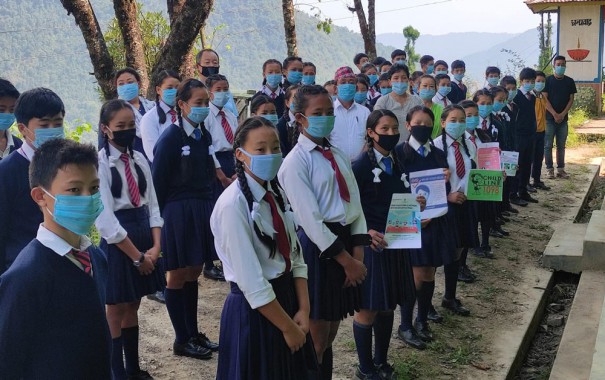 Saturday, Oct 17, 2020 11:15 [IST]
Last Update: Saturday, Oct 17, 2020 05:51 [IST]
Abdul Kalam birth anniversary celebrated at Sopakhaschool
KUSH HANG LEEWANG
GYEZING:On the occasion of the birth anniversary of former India President APJ Abdul Kalam, Dentam NGO Sikkim Sisters in collaboration with PawanDrishti Girls Home celebrated the World Students' Day at Sopakhasecondary school, West Sikkim.
BinaRai, the chief patron of Sikkim Sisters,Ongmit Lepcha, in-charge of PawanDrishti Girls Home of Uttarey, teachers, students and others attended the educational and informative function. The students were sensitized on value of education and its importance for establishment of an informed, advanced and educated society that will pave a way for creation of a better civilization.
The students were also informed about the life history of APJ Abdul Kalam, his contributions to the country and his achievements in the various fields of science and education.
During the programme, the students were sensitised on Covid-19. The students were educated on importance of social distancing, usage of masks and sanitizers and precautionary measures to be adopted to contain Covid-19.
BinaRai and Jangmu Sherpa conducted an informative session on child abuse prevalent in the society.
Information on legal facets and various acts constituted to deal with child abuse in various forms were imparted to the students. They were informed about need of prompt reporting of cases pertaining to child abuse in the neighbourhood or locality to the competent authority without any fear. The students were also informed on the role of each individual to fight back social stigma that has plagued the society.
The organizers of the event also distributed hand sanitizers and masks to the students.
Headmaster S.B Subba thanked NGOs for conducting the programme for the students.