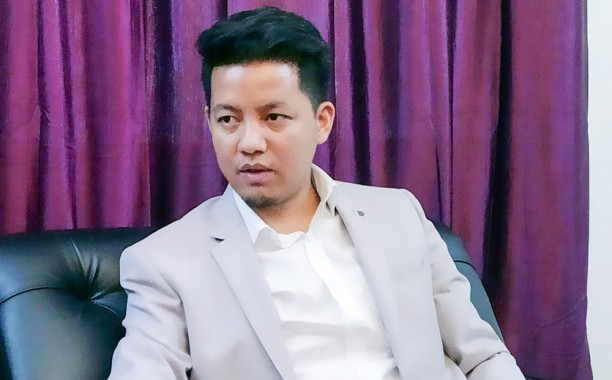 Monday, May 18, 2020 15:30 [IST]
Last Update: Monday, May 18, 2020 10:01 [IST]
'Absence of pre-existing infra meant we had to start from scratch'
If a proper molecular lab was there at STNM hospital, it would have taken only two weeks to set up viral lab: Indra Hang
BIJOY GURUNG
GANGTOK: Lack of a well-functioning molecular lab and absence of any pre-existing required infrastructure in State-run STNM hospital compelled the Sikkim government to start building its Covid-19 testing lab from scratch, said Lok Sabha MP Indra Hang Subba in response to questions on why Sikkim is lagging behind other States for a viral lab.
The under-construction viral lab in STNM hospital, Sochyagang here is expected to be commissioned on May 20. The final equipment and materials had arrived at the hospital on May 14 from Delhi along with technicians.
Speaking with SIKKIM EXPRESS on Saturday, Indra Hang, a research scholar himself, pointed out that other States including those in Northeastern region had pre-existing infrastructures and institutions based on which Covid-19 lab could be set up within a short period of time. Other States had such institutions with pre-existing infrastructure and the ICMR working in coordination with the respective State governments allowed the institutions to start Covid-19 labs, he said.
"But Sikkim was in a disadvantageous stage and had to start from scratch. First we had to do the civil works, wait for the cement works to be complete and then do flooring and ceiling using different materials to maintain bio-safety. It took time because we were starting from scratch and no previous groundwork had been done," he added.
It was informed that the civil works for the STNM hospital viral lab commenced from April 13. The Health department also faced challenges to transport the machines and materials due to the national lockdown. The final consignment was delivered from Delhi to Bagdogra airport on an IAF aircraft on May 14 and then brought to Gangtok.
Indra Hang mentioned that Chief Minister P.S. Golay also intervened to expedite the construction works. "The Chief Minister inspected the lab construction work and took stock of what extra help is required from his office and did the needful. He was continuously monitoring the progress," he said.
Indra Hang shares that the viral lab should have been established in the STNM hospital in 2015-16 itself but the then State government failed to provide the required space. "We did not even have a proper molecular lab in the STNM hospital and all samples had to be sent outside for testing. Viral lab is a different matter altogether and is highly technical," he said.
The MP maintained that the Covid-19 tests could have been expedited in Sikkim itself if a well-functioning molecular lab was there in the STNM hospital. He elaborated that only a few additions would have transformed the molecular lab into a viral lab.
"We would have only needed to add some deep freezers, a bio-safety cabinet and a RT-PCR machine and calibrate them as per ICMR norms with help of technicians. If we had a proper molecular lab in the STNM hospital, it would have required only two weeks to upgrade it to viral lab. But we did not had a well-functioning lab and hence, our government needed to build the Covid-19 lab from scratch. We had nothing to start off and we literally started by digging up the ground first and now we have reached the stage of having our own viral lab," said Indra Hang.
Highlighting the importance of institutions, the MPpointed the Sikkim University has a microbiology department which also have bio-safety cabinets and RT-PCR. "If the Sikkim University had been given the land for its permanent campus in time then the microbiology lab could have been set up there. ICMR would have been approached for permission and we could have immediately started testing by fulfilling only few protocols like proper no-entry areas, calibrate the bio-safety cabinet and RT-CPR as per ICMR norms," he said.
Sikkim University, since its establishment in 2006, has been functioning from rented buildings with its departments spread across Gangtok and nearby areas. Construction works are progressing for the permanent campus at Yangang, South Sikkim.
Presently, the microbiology department of the university is located in Tadong and cannot serve its full purpose owing to space constraint at its rented premises.
Indra Hang has made two visits of the under-construction viral lab at STNM hospital – first early this month and second visit was on May 13. The Covid-19 lab is scheduled to be operational by May 20, he said.
"However, the technicians to install and calibrate the machines have come from outside the State and as per protocol, they need to be placed under quarantine and tested. Only when the test comes negative, they can start working. The place also needs to be isolated when they are working. The government is trying to get the viral lab ready by May 20 while maintaining these protocols," he said.
It is informed that three technicians have come to set up the lab along with one more technician for setting up the UPS system.
To a question, the MP said the viral lab at STNM hospital would be able to perform tests on all kinds of pathogens. For the time, it is being specialized as Covid-19 testing lab but would not be limited to coronavirus only. All other viral tests can be done as it has been established based on ICMR guidelines, he said.
Upon its commissioning, the Covid-19 testing lab in Sikkim will greatly help to enhance the number of testing per day, which in turn, will ease the burden on the State administration as more and more number of stranded Sikkimese returns home.
Barring a few exceptions, the Sikkimese persons returning home from other States since May 5 are being sent to government quarantine centres or paid quarantine centres.
"Once the viral lab is functioning here, we can do 100 to 180 tests in a single day and since the RT-PCR results are 100% accurate, those testing negative can be send to home quarantine or small quarantine centres in their villages. This way, the quarantine centres would be decongested on a daily basis and it will help the government to cater to the fresh batch of persons returning to Sikkim."
Besides the leap in testing of quarantined people, the viral lab would also give flexibility to the Health department to do random testing on doubtful cases. It will also enable the government to do early tests of the frontline workers, said Indra Hang.
Presently, the samples from Sikkim are being sent to the Covid-19 lab at North Bengal Medical College & Hospital, Siliguri. "In past when there was a huge rush of samples from other areas, only 10 samples from Sikkim used to be tested daily at North Bengal Medical College & Hospital during that situation. At present, the lab has added more machines and increased the number of samples from Sikkim but when it had few machines, only 10 samples from Sikkim used to get tested. It was a huge disadvantage for us," he said.
Indra Hang said the Covid-19 lab in Sikkim is also a good long term investment. "This is just a base. It was only difficult to establish this lab. Once it is done, we can continuously upgrade the lab and add more instruments to take it forward," he said.