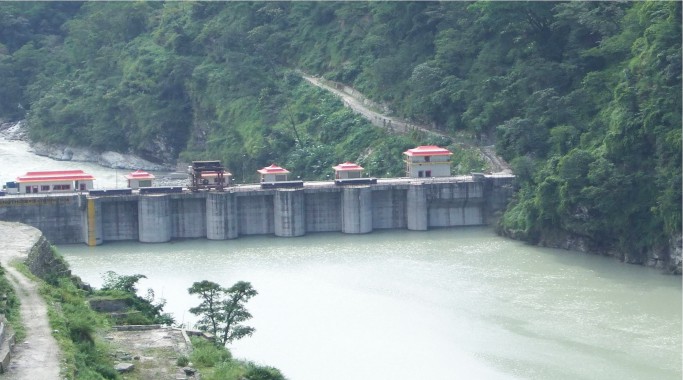 Monday, Sep 27, 2021 07:45 [IST]
Last Update: Monday, Sep 27, 2021 02:05 [IST]
ACT condemns IHA award for NHPC Teesta-IV project
Sets a worrying precedent for more dams to be built on our rivers: ACT
GANGTOK,: The Affected Citizens of Teesta (ACT) has recorded a strong condemnation for the awarding of IHA 'Blue Planet Prize' to NHPC Ltd for its Teesta-V 510 Mw power station at Dikchu, East Sikkim.
"This award is nothing but another attempt to depoliticise the woes and protests against dams that has been going on for 18 years on the stretch of Teesta river and finally to push the button to dam the belly of Dzongu near Mangan which has been resisted for a long time," said ACT general secretary Gyatso T. Lepcha in a press statement on Sunday.
Recently, the NHPC Teesta-V power station had been conferred the 'Blue Planet Prize' by International Hydropower Association (IHA) during the World Hydropower Congress 2021. The IHA 'Blue Planet Prize' is awarded to hydropower projects that demonstrate excellence in sustainable development, as per a NHPC press release.
However, ACT, which has been protesting against mega hydel power projects in Sikkim, contended that there is a long list of problems that the affected communities continue to face at Dikchu and nearby areas.
"We have first-hand accounts from the communities directly impacted by this project who can prove that the so-called 'international good practice' is nothing but a farce. It would be a shame to see other hydropower projects in Sikkim, India or even globally measure themselves against the Teesta-V project," said the ACT general secretary.
"From massive landslides as recent as June 2020 falling directly at the dam site to unpaid compensation and unfulfilled promises, there is a long list of problems that communities continue to face. Sikkim has been witnessing accounts of suffering of people of Dikchu and Jang village every monsoon," said Gyatso.
Gyatso added that the ACT is concerned that the IHA award could push more hydel power projects and dam on Sikkim rivers.
"We fear that this sets a worrying precedent for more dams to be built on our beloved Teesta and its tributaries. A cascade of dams is not what the people need. We are hardworking self-sufficient people who do not need to rely on destructive projects in the name of development," said the ACT general secretary.
Gyatso urged the State government to look for true renewable solutions that protect and does not destroy the rivers, people's livelihoods and the ecosystem that hangs in the balance.
"ACT has been working proactively to urge the government to see the light and change their plans to build the Teesta-IV dam in Dzongu. How much more can one river take?," questioned Gyatso.