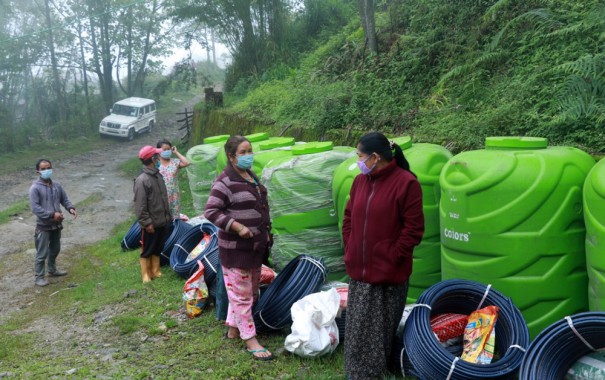 Tuesday, Jun 02, 2020 14:30 [IST]
Last Update: Tuesday, Jun 02, 2020 08:50 [IST]
Agricultural inputs provided to slide-affected families and farmers of Lingchom Tingda
SE Report
GANGTOK: Various agricultural inputs and tokens to the landslide-affected households of Upper Lingchom and farmers of Lingchom Tingda GPU under Kabi-Lungchuk constituency were distributed on Monday by the Agriculture & Horticulture department.
An IPR release informs that Agriculture minister Lok Nath Sharma and Forest minister-cum-area MLA Karma Loday Bhutia jointly handed over the tokens to the beneficiaries at the community recreational centre, Lingchom.
Addressing the affected families and the beneficiaries, minister Sharma expressed heartfelt condolences to the Upper Lingchom landslide victim families and wished for speedy recovery of injured persons, on behalf of the Chief Minister and the people of Sikkim. He also urged everyone to take optimum benefits of the departmental inputs and tokens in earning their livelihood, sincerely.
Elucidating the importance of agricultural profession, minister Sharma said that the global crisis of Covid-19 has given a key message to realise human indispensability on agriculture and urged people to adopt farming as an essential component of healthy lifestyle. He also informed about the provision of subsidised loan dedicated to the farmers in banking sector and shared about the ongoing work progress in developing an effective mechanism and convenient procedure for farmers to avail subsidised loan. The interested farmers should come forward with complete commitment, he added.
Sharma informed that the State government will conduct a survey of uncultivated private lands holding for proper utilisation of unused land for farming purpose. Viewing the geographical terrain and resource potential of the locality, he advised educated youths and farmers to adopt fisheries and piggery farming on priority and further elaborated its scope to boost economy and self-reliance. He assured to provide all possible support from government's end to support farmers.
Minister-cum-area MLA Karma Loday Bhutia expressed gratitude to the Agriculture&Horticulture department for distributing various agricultural inputs to the people of the locality and urged them to use technical items carefully and judiciously.
Horticulture secretary MT Sherpa urged for proper utilisation of all technical inputs like power tiller. He also highlighted various schemes under Horticulture department and assured to provide all guidance and support to the farmers, the IPR release mentions.