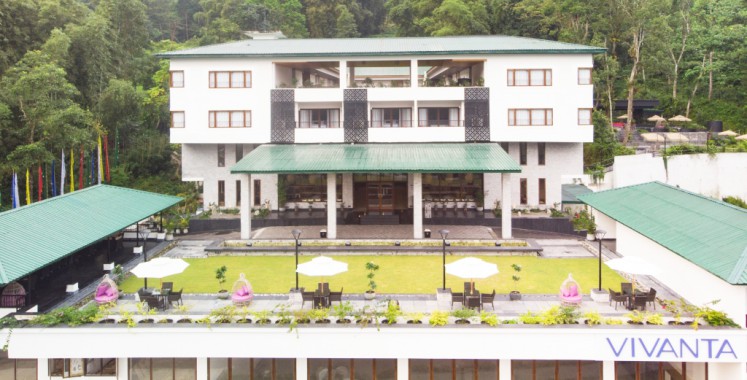 Tuesday, Dec 07, 2021 07:30 [IST]
Last Update: Tuesday, Dec 07, 2021 01:51 [IST]
Airport Town gets a Premier Address
BIJOY GURUNG
Vivanta Sikkim, a luxurious retreat for travellers at Pakyong
GANGTOK,: Tourism suffered a global meltdown in these two years of Covid pandemic. Sikkim is no exception, particularly when its entire economy is driven by lakhs of tourists visiting the Himalayan State annually. But as the world adapts to a new normal, tourism is also returning with resilience and innovative attractions for the travellers.
One such courageous addition to Sikkim Tourism in this turbulent period is Vivanta Sikkim, a 5-star luxury hotel at Pakyong. Located just 7.5 km away from the State's lone airport, the IHCL-operated hotel comfortably adds value to the high-end tourism mantra of the State.
Strengthening the Sikkimese ethos and participation is local ownership through Skipping Stones Pvt Ltd which owns the Vivanta Sikkim Pakyong hotel spread over its land of 3.5 acre. The 50-room hotel is operated by Indian Hotels Company (IHCL), a reputed national hospitality company which also operates the famed Taj Group of Hotels.
"We are a local company and we are extremely proud to introduce our hotel Vivanta Sikkim Pakyong to be operated by the reputed IHCL. We are targeting high end tourists and we are optimistic of getting good business while also adding value to Sikkim Tourism. We have spared no effort or resources to blend nature with modern comforts in this hotel. The airport is also near us which gives us a good advantage," said Shrada Sharma, the managing director of Skipping Stones Pvt Ltd.
A consistent feature of Vivanta Sikkim, which started operating from November 30, is open spaces, panoramic views from the rooms and harmony with natural surroundings. It also offers a temperature-controlled open-air swimming pool, a first in Sikkim besides the award-winning Jiva Spa. With over 300 square metres of indoor banqueting spaces and open air lawns, the hotel is ideal for elegant social gatherings.
Shrada shares that 50% of the employees at Vivanta Sikkim are local people. "We hope in coming years we will have more local employees and we will be very happy if we can have 100 per cent local employment. We are scouting for such talents. The hotel will also benefit the surrounding areas as rooms would be go for rent, shops will run…there will be a good economic impact," she said.
On the topic of local participation in hospitality business, Shrada opined that the local owners at some point of time have to step into the game. "It is apt that we start learning now on how to run the hotel. We love and know more about our State. We can showcase our property better if we run our hotels and can convince the tourists about our natural heritage. I guess this is important, euta maya huncha… it is not only about money," she expressed.
To a question, Shrada responded: "I hope that in coming five years this hotel becomes a landmark in Sikkim and it showcases tourism of Sikkim as it should be. People visit Sikkim for nature and we have tried to incorporate as much nature as we can while designing the hotel."
Hotel general manager Sandeep Das was also confident of Vivanta Sikkim Pakyong hitting the bull's eye in terms of tourism business.
"Definitely, it is going to hit the bull's eye. If you look at Gangtok, there are 3-4 hotels which are in branded section and in the branded section as IHCL we are the best having close to 200 plus hotels. Our capability to run the hotel is at par with the competition if not better," said Das.
Das pointed out that Vivanta Sikkim Pakyong is located amidst pristine nature in comparison, a premium attraction for high end tourists. "This is the ideal location for high end tourists whom we are targeting. Here they can see and experience all the five elements of nature and enjoy their time with family. If Pakyong airport also works out well, we are the first pit stop for the guests," he said.
Vivanta Sikkim marks the first footstep of IHCL in Sikkim.
Das shared that Sikkim is a premium attraction for high end tourists who wants to explore nature and avoid crowded tourism destinations. There is so much to discover for the visitors in Sikkim, he said.