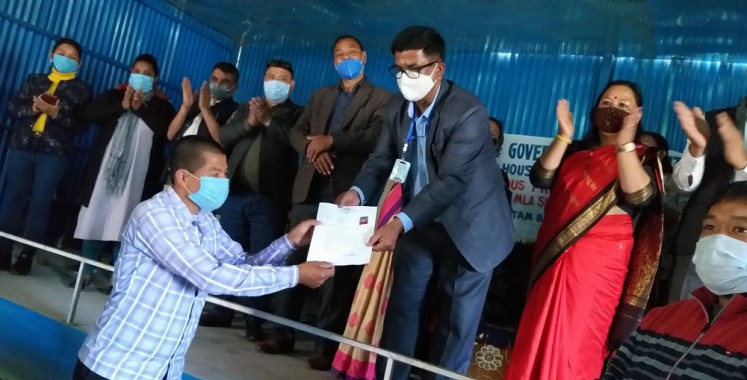 Tuesday, Nov 10, 2020 11:00 [IST]
Last Update: Tuesday, Nov 10, 2020 05:28 [IST]
Allotment orders distributed to HeeMartam beneficiaries
GEYZING(IPR): Rural Development department, West Sikkim today disbursed allotment orders of Sikkim GaribAwasYojana (SGAY) to the beneficiaries of four GPUs under HeeMartam block in a special programme organised at Martam village administrative centre.
Minister and area MLA L.N. Sharma attended the event as the chief guest and handed over allotment orders to the beneficiaries. A total of 80 beneficiaries of MartamGPU, PechrekHeePatalGPU, BermiokBerthangGPU and ChingthangGPU received the allotment orders.
The minister, in his address, stressed upon the use of quality raw materials for the construction of house under SGAY. He urged every beneficiary to actively involve and monitor entire construction process. He also informed that two persons have been newly-appointed to supervise all essential nitty-gritties of construction work to ensure strong physical structure and better output. He also anticipated to complete construction work of 100 houses in the constituency within the stipulated time and directed all concerned to complete assigned work by the year 2021. He also informed that those left-out will receive housing benefits in the next phase.
The minister also threw light on the objectives behind the newly-launched Chief Minister GaribAwasYojana.
Sharma said that the State government has translated its commitment in practice with the introduction of SGAY for the upliftment of underprivileged and deprived households. He also informed gathering on the current global scenario created by Copvid-19 and enlightened on preventive measures.
He further emphasised on the importance of development in educational sector and expressed his happiness on the transformational change being observed in some of the schools in Gyalshing-Bermiok constituency. Speaking on the context of power supply in the vicinity, Sharma informed that the proposed installation of mini power sub-station at Martam will ensure adequate power supply in near future.
The minister said the State government has commenced construction of new roads in various pockets in the constituency and also shared the scope of the National Highway projectto be connected withChewaBhanjyang at the border.
The State government, under the leadership of the Chief Minister of Sikkim Prem Singh Tamang, has transformed Geyzingdistrict hospital with newly installed medical facilities of X-Ray and dialysis unit and the government will also install facilities of operation theatre and Intensive Care Unit at the earliest, said Sharma. He also shared that a proposal has been made for establishment of three primary health sub centres under HeeMartamBAC.
The minister underlined the scope of employment opportunities in the upcoming Cutting and Tailoring Cottage Industry at Mangsel which is likely to be inaugurated in near future.
He also articulated on the significance of farming profession and motivated youth to adopt the lucrative profession of agriculture and livestock farming.
ADC (Development)Surat Gurung urged the SGAYbeneficiaries to extend full cooperation to ensure quality construction of houses.
Earlier, one minute's silence was observed to pay tribute to the departed soul of the former Chief Minister of Sikkim, Sanchaman Limboo.