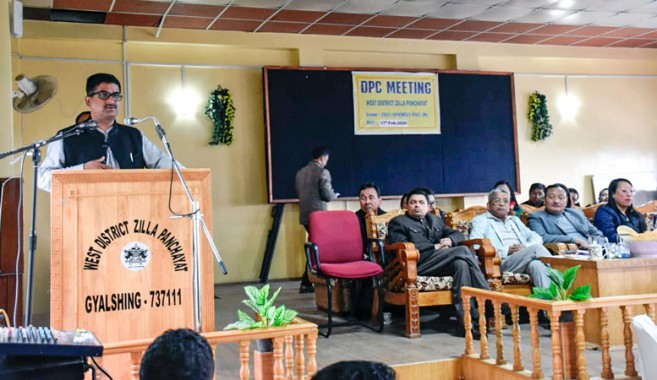 Tuesday, Feb 18, 2020 14:46 [IST]
Last Update: Tuesday, Feb 18, 2020 09:01 [IST]
Annual budget passed by West District Zilla Panchayat
KUSH HANG LEEWANG
GEYZING: A meeting of the District Planning Committee was organized by West District Zilla Panchayat today here at the Zilla Bhawan. The meeting chaired by west zilla adhyaksha Devika Subba in the presence of Agriculture minister Lok Nath Sharma, zilla upadhaksha Ashok Gurung, DC (west) Karma R. Bonpo, zilla panchayats and panchayat members and heads of governmental departments.
In the meeting, budget for 2020-2021 in regard to various public welfare works to be initiated by the committee was placed. An amount of Rs. 3.89 crore as Zilla Panchayat Yojana Budget was passed in the meeting and Rs.20 lakh was placed as the budget for two separate wards of Jorethang Municipal Council falling under the jurisdiction of west district zilla panchayat.
The budgetary amount of Rs. 44 crore was also passed as labour budget for MGNREGA. Plans and proposals regarding various public welfare schemes were also placed in the meeting and resolutions were passed.
Panchayat members in an open house discussion apprised the house on the problems related to drinking water facilities, roads and connectivity, sanitation, irrigation and others.
Minister Lok Nath Sharma, in his address, called for proper coordination amongst the panchayats and government departments for implementation of all the public welfare works and schemes in west district. He added that the panchayats and the government employees should shoulder the responsibilities assigned to them for better execution of developmental schemes being initiated through Panchayati Raj system.
Sharma asserted that the State government would provide all the help to sort out the drawbacks and difficulties pertaining to various developmental works. "We have been elected by the people with aspirations that we will serve them better and we will not let the people down," he said.
The minister also briefed the house on the State's government commitment for all round development of West Sikkim.
Zilla adhyaksha Devika Subba highlighted on the roles and responsibilities of panchayats and zilla panchayats and called for necessary coordination between the panchayats and government officials while executing public welfare works in the district.
Bringing forth the issues related to drinking water facilities, sanitation and other welfare schemes, Subba maintained that such issues should be resolved after proper assessment. On rampant practice of licence subletting, she sought the help of west district administration to address the issue in a proper way. She expressed that west district zilla panchayat is committed to serve the people to the fullest.
DC Karma R. Bonpo, in his keynote address, expressed that proper assessment and verifications and monitoring should be done before implementing the developmental projects. He added that collective efforts must be put up by panchayats, zilla panchayats and the government officials overseeing the projects to root out the problems related to public welfare schemes so that implementations of such schemes turn out to be a successful initiative.