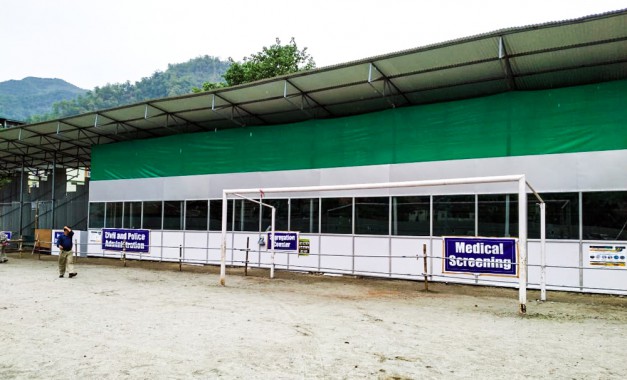 Friday, May 22, 2020 13:15 [IST]
Last Update: Friday, May 22, 2020 07:35 [IST]
Arrangements enhanced as thousands of Sikkimese expected to return home
DICHEN ONGMU
GANGTOK: Quarantine centres and screening facilities have been enhanced by the State authorities as around 3,000 stranded Sikkimese are expected to reach their home State in the next 3-4 days from other parts of the country. Most of them would be boarding the special trains booked by the Sikkim government and others are on the way home in buses.
Till Wednesday, around 2,400stranded Sikkimese have crossed into Sikkim but they have been coming in smaller groups in a phased manner since May 5. This has given room for the authorities to properly screen them at Rangpo and Melli checkposts and dispatch them to the quarantine centres in their respective districts.
It would be for the first time that hundreds of stranded Sikkimese are entering the State en masse in the next 3-4 days starting Friday. A special train booked by the Sikkim government is starting from Chandigarh on May 22 for NJP Siliguri carrying at least 1,000 stranded Sikkimese including those picked along the route.
In preparation of the huge rush of arrivals, the east district administration has set up one more screening centre at Goli Ground near Rangpo in addition to the existing screening centre near Rangpo checkpost.
"We have set up another screening camp and it will be functional from tomorrow. Now we have two screening camps at Rangpo which will enable us to divide the returnees and do screening accordingly. We have prepared double teams," said DC (east) Raj Yadav to SIKKIM EXPRESS.
Around 1,200 stranded Sikkimese hailing from east and north districts are expected to enter Sikkim through Rangpo checkpost in the next couple of days. We have increased the capacity of the quarantine centres and we are ready, said Yadav.
The DC (east) informed that the free government quarantine centres in east district has the capacity to accommodate more than 2,000 persons. Around 1,000 persons are presently there in the free quarantine centres and we have the capacity to add more than 1,000 persons there, he said.
Regarding paid quarantine centres (hotels and guest houses) in east district, Yadav shared that around 400 persons are presently lodged there. We have the capacity to accommodate 300-400 persons more in the paid quarantine centres, he said.
So far, around 1,500 stranded Sikkimese have entered the State through Rangpo checkpost and sent to the quarantine centres, barring a few who were sent to home quarantine based on the advice of the medical screening teams. More than 250 persons have been discharged from the quarantine centre till now.
To a question, Yadav told SIKKIM EXPRESS that as per norms, each returnee has to stay in quarantine (paid or facility) for 14 days but it depends on the medical team and testing capacity. After five days, the persons are tested for Covid-19 and when results come negative, they are discharged.
However, the dependence on North Bengal Medical College & Hospital (NBMCH) for testing of Sikkim samples is proving to be a hurdle. There are a sizeable number of tests from Sikkim pending at NMBCH viral lab while many here have completed their 14-days quarantine period and sent to home quarantine for another 14 days.
Commenting on the challenges faced to run the quarantine centres and response met, the DC said people returning home tend to have high expectations regarding the facilities at the quarantine centres. "To meet their demands is very difficult for us and we feel that the returnees should understand that the government is working hard to give them proper facilities by making the resources available. But when complaints come on petty things like no wi-fi, it is bit disappointing for us," he said.
"We are fulfilling the basic requirements like food, water, power and other facilities. We request the returnees not to expect five-star hotel arrangements and that the government cannot give them luxurious facilities. We are ready and made all the arrangements and similarly, they should also understand that there would be small shortcomings in the quarantine centres where many people would be staying. We request their support and cooperation which would be motivating for us and together, we can do better and easily sort out any problems, he said.
Asked about the safety of people who are working in the quarantine centres, the DC said the administration is responsible for the safety of such persons. Those who are working in the quarantine centres have been instructed that their only work is to make food and reach the food outside the door of the rooms where the persons are under quarantine, he said. No one is allowed to come outside or come in touch with them, he said.
Meanwhile, around 6,000 migrant workers and stranded persons of other States have headed towards their home from Sikkim through Rangpo checkpost till date.
The DC (east) shared that the challenge for sending home the stranded persons and migrant workers from Sikkim exists due to low response of the West Bengal government.
"Our government is committed and capable of sending 1,000-2,000 stranded persons per day in our SNT buses, we can do this easily. However, the West Bengal government says that there are no arrangements for taking forward the people after they reach Siliguri and due to this, we cannot evacuate fully. Daily we are sending out 400-500 people who have managed to make their own arrangements," said Yadav.