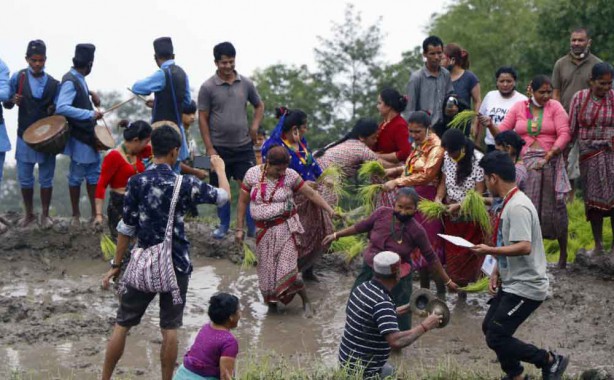 Tuesday, Jun 30, 2020 12:45 [IST]
Last Update: Tuesday, Jun 30, 2020 07:15 [IST]
'Asaar Pandra' celebrated at Khamdong
SE Report
GANGTOK: 'Asaar Pandra', the traditional paddy trans-plantation festival, was celebrated grandly at Dung Dung village, Khamdong in East Sikkim on Monday, informs an IPR release.
Agriculture minister L.N. Sharma was the chief guest for the 'Asaar Pandra' celebration also attended by Health minister-cum-area MLA Dr. M.K. Sharma, Transport minister Sanjit Kharel, MLAs, officials of concerned departments and local residents of Khamdong area.
Amidst traditional songs and music, popularly called 'Bethi', the dignitaries joined the local residents in trans-planting new seedlings of rice in the field. Traditional sounds of the 'Naumati Baja' and traditional songs lent festivity to the occasion. The dignitaries and other guests were treated with the significant 'dahi chewra' (beaten rice with curd and bananas), the IPR release mentions.
The Agriculture minister, in his address, shared that the purpose of organizing the festival in this manner is to encourage the farming community to take pride in this profession. He emphasized on the importance of farming in people's daily lives and the contribution of farmers who toil day in and out to provide variety of products to the entire population.
The vision of the State government is to make the farmers self-reliant and economically sound, said Sharma. He also highlighted the incentive provided to dairy farmers in the State. He urged the dairy farmers to take membership of Sikkim Milk Union to avail of an upcoming incentive scheme.
Earlier, it was also announced that the long pending aspiration of the people of Khamdong for the establishment of National Institute of Technology (NIT) in Khamdong has materialized, and the same has been sanctioned by the government, the IPR release mentions.
On the occasion, land compensation was also presented to the landowners for the proposed NIT campus at Khamdong.