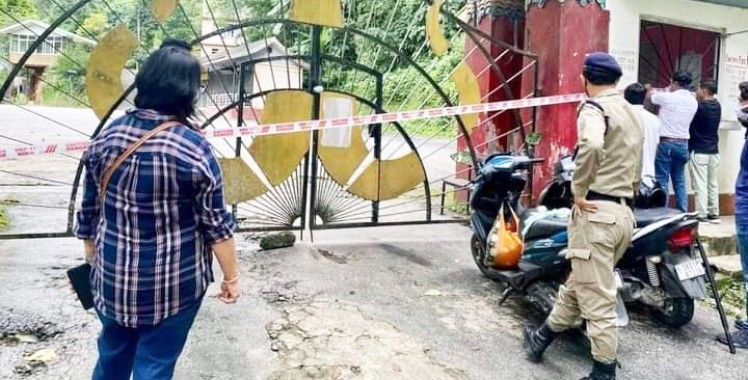 Friday, Jul 30, 2021 07:45 [IST]
Last Update: Friday, Jul 30, 2021 02:05 [IST]
Ban Jhakri Falls sealed after rent default
KUNAL RAI
GANGTOK,: Ban Jhakri Falls, a recreational spot much visited by tourists and locals about 7 km away from here, was sealed by the east district administration on Wednesday.
The company operating the tourism complex had defaulted on paying the rent due to the Tourism department as per the lease deed. The violation of lease deed by defaulting on rent as quoted in the tender led to the Ban Jhakri Falls complex being sealed, said the authorities here.
Tourism officials informed SIKKIM EXPRESS that Ban Jhakri Falls tourism complex was leased to a firm in 2016 after making the highest rent bid for a period of five years.
"However, the management failed to pay the rent in a regular manner as they had quoted a very high rent. Due to non-payment of rent on regular intervals, the department had terminated the lease in 2018 but the party filed a petition in the court against the termination order," said a Tourism official.
It was informed that petition was disposed of in favour the department's decision to terminate the lease.
With the district collector being the right forum to initiate eviction and recovery of due amount, the Tourism department approached the east district administration after winning the court case to take appropriate action.
The district collector (east) issued an eviction notice to the operators of Ban Jhakri Falls but they approached the appellate authority, the Law secretary, against the eviction order and a lengthy hearing was done. Finally, the appellate authority gave an order in favour of the department stating that the eviction order stands and as per the appellate authority's directive, the district collector on July 28 sealed the property of Ban Jhakri Falls, it was informed.
Rent amount due to the Tourism department is said to be huge as a very high monthly rent quoted by the bidder. They had quoted exuberantly high than the base rate quoted by the department.
Asked about the future of Ban Jhakri Falls, the Tourism officials shared that discussions on the property would be held in coming days whether the property be operated by the department itself or through Sikkim Tourism Development Corporation or invite open tender again.