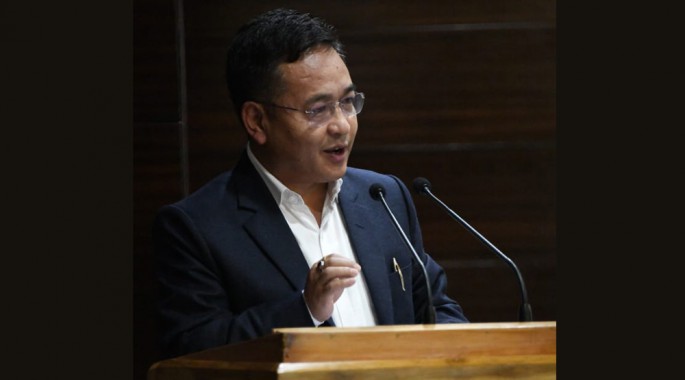 Sunday, May 31, 2020 15:15 [IST]
Last Update: Sunday, May 31, 2020 09:36 [IST]
Ban on inter-district movement from June 1 to 15
CRH to take up non-Covid treatment for 3 months
SE Report
GANGTOK: Inter-district movement would be prohibited starting June 1 till June 15 in Sikkim after the current Lockdown-4 ends on May 31. Only intra-district movement will be allowed, it was decided during a high-level meeting of the State task force chaired by Chief Minister P.S. Golay on Saturday at Samman Bhawan here.
The meeting was attended by ministers, MLAs including those from BJP and departmental heads to take stock of the current situation in Sikkim and formulate the way forward after the lockdown ends.
Sharing details of the meeting in his social media page, the Chief Minister informed that the government will also be considering the gradual opening of restaurants, gyms, private schools and dance & music academies duly observing the Covid-19 safety protocols.
CRH Hospital, Manipal here at Tadong will be catering to operations for three months along withState government doctors. The State-run STNM hospital will function for other minor ailments and health issues.
According to an IPR release, the Chief Minister announced that the Sikkim government has entered into an agreement with the CRH wherein for the next three months, all non-Covid treatment, care and surgery will be carried out in CRH hospital. He informed that government doctors will also work with CRH during this period.
The Chief Minister said odd-even rule will apply to both taxis and private vehicles starting June 1 while gyms can operate with strict social distancing, limited entries and timings. To promote local tourism and also to revive the homestays/hotels of Sikkim, educational tours for students will be conducted within the State, he said.
Government offices will continue to function with 30% of employees and all movement of hardware trucks to be stopped till June 15.
To cater to a large number of kidney patients, several dialysis units shall be set up in the district and later at the sub-divisional level so that the patients may not leave the State, said the Chief Minister. He further informed that out of the six Sikkimese citizens in DKK Bhawan, New Delhi who had tested positive for Covid-19, five people have fully recovered.
Golay mentioned that the State government had, from May 1, started the process of bringing home the stranded Sikkimese from different parts of the country and also made transport arrangements for people of other States to their respective States. "We now have few citizens in Maharashtra which is a red zone area and will evacuate them after all the necessary transport requirements are fulfilled. We are also providing economic packages to those people who are opting to stay where they are," said Golay.
"Though we have provided certain relaxations, I request our people to be cautious and follow safety protocols as there may be a possibility of more cases with people returning to the State. It is our collective effort and discipline that has kept us safe until now and should continue with it," said the Chief Minister.
At the meeting, Health director general-cum-secretary Dr. Pempa T Bhutia informed that the RT-PCR testing at the new Viral Research and Diagnostic Laboratory at STNM hospital will be fully functional from tomorrow. He informed that the samples of 53 secondary contacts of the lone Covid-19 positive patient which were sent to North Bengal Medical College & Hospital have tested negative, the IPR release mentions.
State nodal officer (evacuation) Rinzing Chewang Bhutia, at the meeting, informed that most of the stranded Sikkimese have been brought home from different parts of the country. As per the directive from the Chief Minister, Sikkimese people stranded in Maharashtra were contacted, he said and added that many people have chosen not to return to Sikkim as they have resumed their economic activities in their respective areas. He updated that around 250 people who are willing to return to Sikkim will be evacuated in the coming days through a special train, after approval from the government, the IPR release mentions.