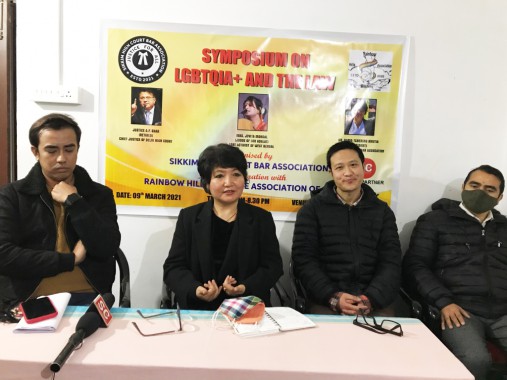 Saturday, Mar 06, 2021 07:45 [IST]
Last Update: Saturday, Mar 06, 2021 02:07 [IST]
Bar association symposium on LGBTQIA+ on March 9
DICHEN ONGMU
GANGTOK,: A symposium on LGBTQIA+ and the law is being organised by Sikkim High Court Bar Association in collaboration with Rainbow Hills Welfare Association here on March 9.
Addressing a press conference, Sikkim High Court Bar Association president Dr. Doma Tshering Bhutia said, "It is high time we come out in open and discuss about the rights and discriminations they face in the society as third gender."
She asserted that it's important to create awareness on third gender community and address the taboo.
"Through this event we also want to acknowledge the organisations that exist in our society. I am hopeful that all of us will learn from the expertise present in the program that evening," she added.
Rainbow Hills Welfare Association president Tshering Wangchuk Lepcha, sharing her experience of discriminations regarding her sexuality, said how individuals of their community get into trauma and mental illness pushing them to commit suicides.
"The derogatory comments from educated population on us are hurtful. Yet I am proud of myself for coming this far and existing in this discriminatory society," added Tshering.
"I appeal everyone from my community to come be a part of this event and accept one's sexuality proud and loud," she urged.
Sikkim Chronicle founder Yougan Tamang highlighted that the event is an "intellectual move" to bring in acceptance for alternative sexuality in the society.
"Media can play a vital role in bringing awareness about the LGBTQIA+ community and we must work on it unanimously," he said.