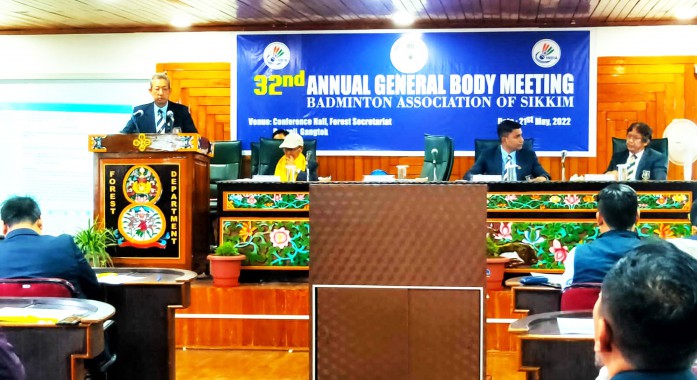 Monday, May 23, 2022 07:30 [IST]
Last Update: Monday, May 23, 2022 02:00 [IST]
BAS holds annual general body meeting
GANGTOK.: The 32nd annual general body meeting of Badminton Association of Sikkim (BAS) was held here on Saturday. The meeting was chaired by BAS advisor and senior member Y. Kazi, informs a press release today.
The meeting was attended by BAS members from across the State and representatives from many new clubs, including badminton associations of Singtam, Majhitar and Rangpo.
BAS president C. Zangpo, while highlighting the achievements of the association in the past, lamented on the valuable years of activity lost as a result of the Covid pandemic. He however expressed his hope that with the pandemic slowly waning away and the proactive support received from the present government, badminton activities will see a new resurgence in Sikkim.
BAS general secretary Sukanta Das presented the annual performance report while Norbu Dadul presented a detailed financial report.
During the meeting, vice presidents Jigmey Namgyal (administration), D.S. Kunwar (events & tournaments), Kalyan Dewan (finance), Francis Rai (training), Dewaker Rai (trials & selection) and David Gyamtso Lingdong (chief coordinator) also placed their reports and their respective programmes for the future.
There was active participation from all members including Hemant Rai, Thondup Bhutia, Renuka Chakraborty, Sonam Wangdi, as well as representatives from Singtam, Majhitar and Rangpo.
The members unanimously decided to adopt to start the calendar with a curtain raiser event within a month followed by various ranking tournaments and the State open tournament along with invitational tournaments to be hosted by various clubs and associations.
It was also agreed that all the clubs will conduct a ranking tournament each so that our players get maximum tournament exposure, the release stated.
Two state coaches namely Sameer Gurung and Ritesh Rai will attend a two-week refresher course for coaches being conducted by Badminton Association of India in the national academy, it was informed.
The BAS members also felicitated Sukanta Das, who recently accompanied a strong Indian Badminton contingent for the prestigious All England Badminton Championship at London as its team manager, the release mentions.