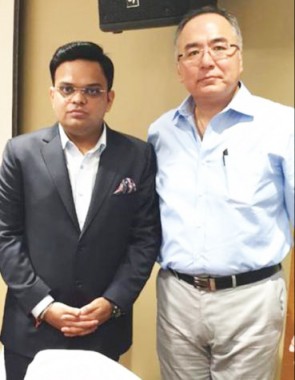 Tuesday, Dec 07, 2021 07:15 [IST]
Last Update: Tuesday, Dec 07, 2021 01:43 [IST]
BCCI to enhance annual hand out to NE cricket bodies
GANGTOK, : The Board of Control for Cricket has announced to enhance annual hand out to North East States' cricket bodies from Rs. 10.80 crore to Rs. 12.5 crore from next financial year, said Sikkim Cricket Association (SICA) president Lobzang G. Tenzing on Monday adding that the enhancement in BCCI grant would provide a fillip to cricket activities in Sikkim.
The BCCI provides annual grant to State bodies for participation in 14 BCCI tournaments including logistics, professional fee, camps, local tournaments and game development expenses.
The SICA president along with IPL governing council member Mamon Majumdar, Cricket Association of Bengal president Avishek Dalmia, Nagaland Cricket Association secretary Anilo Khing and Arunachal Cricket Association vice president Nabam Vivek met BCCI secretary Jay Shah on December 3 at Kolkata and appraised him of the fund constraint owing to which the infrastructure development was being delayed.
Lobzang said Shah gave a patient hearing and on being convinced that the lack of fund posed the major obstacle for the development of cricket in the North East States, the BCCI secretary declared that a separate Rs. 10 crore would be given as advance infrastructure subsidy for infrastructural development.
"I am extremely grateful to the honorary BCCI secretary Jay Shah for showing personal interest in the North East States. His policy of integrating NE States through the medium of sports will truly go a long way as his contribution in producing incredible cricket players in the years to come," said Lobzang in a press statement.
The SICA chief also appealed the North East Cricket Development Committee members to sincerely work for the upliftment of cricket in the Northeast region so that "our work will speak for us and BCCI will continue their unstinted support to the North East states."
The youth of the North East States will be eternally indebted for all the cricket development initiative undertaken by BCCI to the remotes part of the country, Lobzang added.
Lobzang mentioned that Jay Shah, who is also overseeing the development of cricket in the States of Sikkim, Arunachal Pradesh and Uttarakhand, was the first BCCI secretary to visit Sikkim in January 2021. "It was during this visit that he was kind enough to sanction the construction of indoor facilities with state-of-art infrastructure having swimming pool, gym and indoor batting pitches. The construction work of these facilities is likely to commence in February 2022."