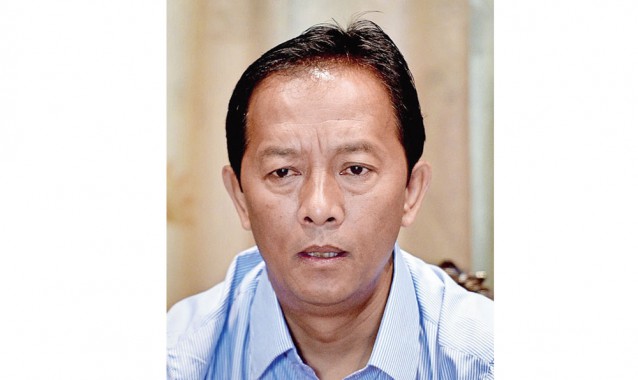 Friday, Nov 13, 2020 19:00 [IST]
Last Update: Friday, Nov 13, 2020 13:16 [IST]
Binay to hold public meeting at Bimal's Tukvar turf
Our Correspondent
DARJEELING: The Binay Tamang faction of GJM is holding a public meeting after Diwali at Tukvar, the traditional stronghold of Bimal Gurung who leads the rival faction.
Political observers are seeing this is an indirect challenge to Gurung at his home turf and a show of strength from Tamang.
"After Diwali, we have decided to hold a public meeting at Tukvar. People from 17 constituencies in Darjeeling subdivision would attend the meeting," said Tamang.
Tukvar, about 12 km away from Darjeeling town, in the past has always been the bastion of Gurung even when he was with the GNLF and later when he floated the GJM.
Observers shared that the Tukvar public meeting is aimed to show that Gurung's support base there is declining at a time when there are talks of him returning to the hills after three years in hiding.
Tamang offered a different reason.
"There are lot of tourists in the hills presently. We do not want to cause them inconvenience by holding a public meeting in the town area," said Tamang.
The Morcha faction leader maintained that Gurung cannot return to the hills and a similar fate of Subash Ghisingh awaits him.
"Different claims are being made as to when he would return but in reality, his condition has become similar to GNLF leader late Subash Ghisingh. After Ghisingh was chased away from the hills by Gurung on March 11, 2008, he stayed at Jalpaiguri. His supporters kept on giving different dates as to when Ghisingh will return. That never happened and Ghisingh returned much later," he said.
Tamang claimed that until he showed the "green flag", Gurung would not be able to move from Kolkata.
"There are many cases against Gurung with him being a proclaimed offender. The judiciary must be respected and he can come back home only if the court finds him innocent. If that does not happen then a negative message will go to the rest of the world that one can do anything in Darjeeling," Tamang said.
The Morcha leader thanked the West Bengal Chief Minister for announcing a Gorkha battalion consisting of 1,000 Gorkha youth. The Chief Minister has also agreed to our demand that the SP or commandant of the Gorkha battalion should be from the Gorkha community, he said.