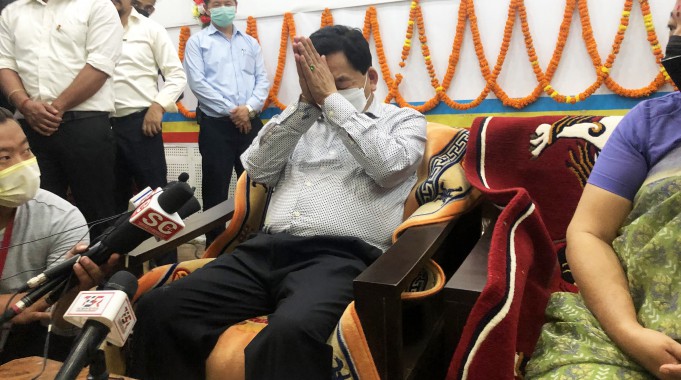 Monday, Sep 27, 2021 07:45 [IST]
Last Update: Monday, Sep 27, 2021 02:07 [IST]
Birthday silence was to de-politicize personal celebration: Chamling
GANGTOK,: Former Chief Minister Pawan Chamling has said his silence before the media on his birthday celebration was to tell two things - de-politicising personal events and anguish over deeply politicised Sikkimese society.
Chamling had turned 72 years on September 22 which saw a grand birthday celebration at SDF Bhawan here. He chose not to address the gathering but spent his day by receiving khadas and taking photos from SDF workers and well-wishers.
The SDF president also opted to remain silent to some questions from the media on the occasion.
In his weekly press statement, Chamling on Sunday said his silence before the media was the expression of his deep anguish over the deeply politicized Sikkimese society and Sikkimese mindset.
"I was asked some political questions and I decided to keep silent and address those questions from a political platform later. I had made a well thought through decision to start de-politicizing personal and social celebrations by keeping aside political activities. I realized that this process needed to begin someday by someone. On my birthday, I decided to be the man to start the de-politicization process."
Chamling also announced that his birthday would no longer be celebrated as 'Garib Utthan Diwas' by the SDF party.
"From this year onward, I will celebrate my birthday as a purely personal event so that my friends and well-wishers from across the political parties can come and meet me. This is my effort to start breaking political barriers that have kept us isolated. I am hopeful if all of us take the necessary steps towards de-politicizing our personal, family, social, cultural and religious events and celebrate them apolitically, we will be able to break the political boxes that have confined our real identity."
The former Chief Minister stressed that Sikkim should separate politics from apolitical institutions and matters.
"All concerned Sikkimese citizens have begun to notice that every single social and cultural activity has become politicized. In many funerals, some wait for the CM, minister, MLA, advisor or chairman to arrive before taking the body out. In many weddings, people wait for such political leaders to arrive before solemnising the marriage. Things have come to such a pass that even in a wedding invitation card, the Chief Minister's name is printed under RSVP. What is worse, even religious ceremonies are being conducted under the patronage and presence of political leaders."
In his press statement, Chamling said the second reason for his birthday celebration silence was to register his concern about the society becoming increasingly nosier.
"There is the noise of rumours, anger, deception, frustration and lies. We need to step back and self-introspect in silence. I appeal to my dear fellow citizens to be wary of noise. Noise has done a lot of damage to the Sikkimese soul. We need meaningful silence to heal our ailing souls. Mother Teresa had once said, "We need silence to be able to touch souls". Gautam Buddha said, "Silence is better than nonsense". Right now there too much nonsense in Sikkim."
Chamling added that he had a "wonderfully refreshing and delightful time" with his family, friends and well-wishers on his birthday.
"I felt much closer to humanity than I would have been if I had allowed my political identity to overshadow the event. That is why I didn't give a speech, message or any public statement or answer media questions which could have conveyed a political message or could have been looked at or interpreted through a political lens," said the SDF president.
Chamling stressed that he has the highest respect and deep affection for the media fraternity. "I heartily appreciate their presence in my birthday. I also deeply respect their effort to reach out to me and get my views on the current political scenario. I convey my heartfelt regret and apologies if my gesture has offended any of them. It was never a blunt refusal to interact with the media. As I explained earlier at length, it was a long-meditated decision to initiate a process to disentangle our apolitical activities from political entanglements," he said.
The former Chief Minister added that he would be certainly answering all the media questions from a political platform.
"Finally, because I have been India's longest serving Chief Minister, it is natural for people to associate me with politics. But I have taken a great interest in literature, music, social service, and other apolitical spheres of life as well. It is therefore my responsibility to help others to see me as an apolitical being also. Would you not agree with me? Do I not have a natural right to enjoy a purely apolitical moment with my family and friends? I hope you will understand this desire and be able to take my silence in the context that it was meant," said Chamling.