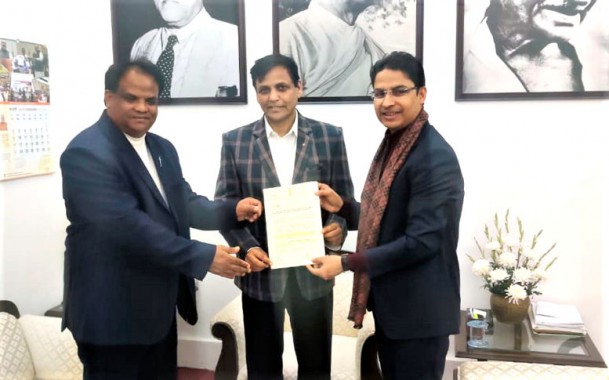 Tuesday, Feb 11, 2020 12:00 [IST]
Last Update: Tuesday, Feb 11, 2020 06:05 [IST]
Bista for bipartite talk with Centre for hill solution
SE Report
GANGTOK: Darjeeling Lok Sabha MP Raju Bista today met Minister of State for Home Affairs Nityanand Rai to discuss issues confronting the region. Bista, in a statement said, he discussed the way forward for finding permanent political solution, and the present status of misunderstanding among certain sections of the political parties regarding Citizenship Amendment Act, National Population Register and National Register of Citizens.
"I informed him how relentless fear mongering and campaign based on lies and by certain political parties regarding CAA, NPR and NRC has caused some misunderstanding among certain sections of the Gorkhas across India. I also informed him that in our Darjeeling hills, Terai and Dooars where majority of tea garden and cinchona garden workers live are made to worry about the implications of CAA due to negative campaigning. Thus I requested him to issue a clarification from the government in this regard," said the Darjeeling MP.
Bista added that MoS Rai was sensitive to the concerns of the people and assured that Indian Gorkhas being sons and daughters of soil, have nothing to fear or worry from CAA and the cacophony of noise surrounding it. He assured that soon the government will take steps to ensure every Indian Gorkhas and people living in Darjeeling hills, Terai and Dooars are made aware of this.
Rai had also invited Home ministry joint secretary Sudesh Kumar Shahi, who looks after Central-State relationship, to join the meeting. Shahi informed that the Centre government has sent multiple reminders to West Bengal government regarding tripartite talks to find a permanent political solution to the long-pending demands of the people from Darjeeling hills, Terai and Dooars – however, the West Bengal government has not responded to those till date.
In case of West Bengal government refusing to join the tripartite talks, Bista requested the Union government to conduct a bipartite talk at the earliest.
Bista was also accompanied by Alipurduars MP John Barla during the meeting with the minister.