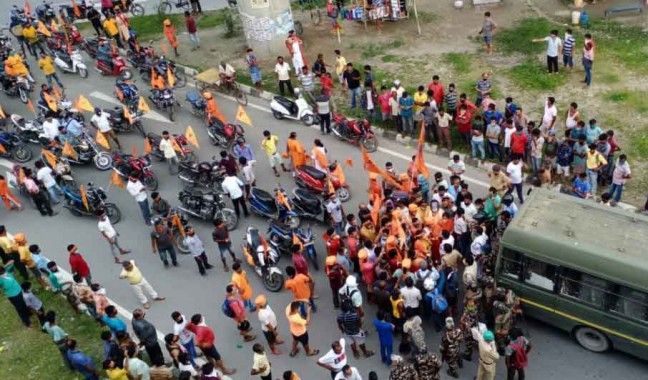 Wednesday, Aug 05, 2020 13:15 [IST]
Last Update: Wednesday, Aug 05, 2020 07:32 [IST]
BJP supporters arrested over bike rally in Bagdogra
PRASHANT ACHARYA
BAGDOGRA: Several BJP supporters were arrested in Bagdogra this evening after they clashed with police for blocking them from taking out a bike rally to mark the Ram Mandir's groundbreaking ceremony to be held on Wednesday at Ayodha.
The BJP supporters in 50 bikes started the rally from Gosainpur area chanting slogans like 'Jai Sree Ram' were first blocked near Bagdogra College but supporters forcefully drove their vehicles and crossed the area.
When the rally reached Bihar More in Lower Bagdogra, a huge police force along with rapid action force personnel barred them from crossing the area.
The rally was planned to reach upto Panighatta More in Upper Bagdogra but police did not allow them following which BJP supporters clashed with police seekinga forceful entry.
DipankarGoswami, officer-in-charge of Bagdogra police station said the party workers were arrestedfor breaking Covid-19 protocols. He said no social distancingwas followed and no prior permission was taken for the rally and that too during this pandemic situation.
Laxmi Sharma, the BJP president of Bagdogra-GosainpurMandal said, "We were on peace rally to commemorate the historical day of BhoomiPujan of AyodhaRam temple today because on Wednesday Bengal Chief Minister Mamata Banerjee has intentionally enforced lockdown."
After heated arguments, the BJP supporters sat on the highway and refused to get inside the bus of police despite the police forcing them. The BJP workers said that they will walk till the police station but not get inside any police van or bus.
Police then escorted all the supporters and took them to the police station.
According to Laxmi Sharma, more than 20 supporters were arrested and rest were not allowed to enter the police station area from the main gate.