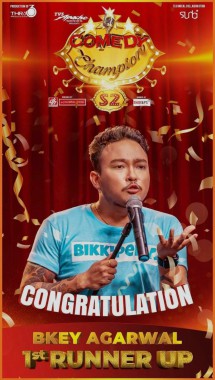 Monday, Sep 20, 2021 08:00 [IST]
Last Update: Monday, Sep 20, 2021 02:19 [IST]
'Bkey already a winner for Sikkim'
GANGTOK,: Although stand-up comic Bkey Agarwal lost the finale of Comedy Champion Season-2, he is already a winner for Sikkim, said local comedy club Hasias Katle.
Bkey Agarwal, a lone participant from Sikkim, finished runners-up in the Nepal's reality comedy show in the grand finale telecasted on Saturday evening.
"Though Bkey couldn't win the title, he is already a winner for many of us and he has made Sikkim proud. His performance was liked and loved by people not just from Sikkim, but from the entire Nepali speaking diaspora. Bkey is an example that Sikkim is a home of many talents and artists. We hope Bkey keeps entertaining us with his unique style of comedy," said team Hasais Katle in a press statement.
Bkey is also one of the founder members of Hasais Katle, a standup comedy group of Sikkim set up in 2018. The other co-founders are Nirmal Sharma, Saroj Kharel and Biswas Timshina.
"The Hasais Katle team is proud to have such a wonderful talent with us and we hope to grow more and entertain more. Hasais Katle has been giving platform to local aspiring comedians and we hope that we bring more talents like Bkey in future."
The Hasais Katle team has thanked everyone who supported Bkey in this journey, whose votes and contributions helped him reach the second position. The group has also thanked Chief Minister P.S. Golay for supporting and encouraging Bkey during the Comedy Champion Season-2.
They have also thanked Bkey support forum for actively promoting Bkey because of which Bkey could generate more votes. Their contribution cannot be thanked in words, they said.
"Not to forget our loyal fans, who have voted for Bkey the whole season. Not just Bkey, we all are able to entertain you because of constant support from our fans," said Hasais Katle.