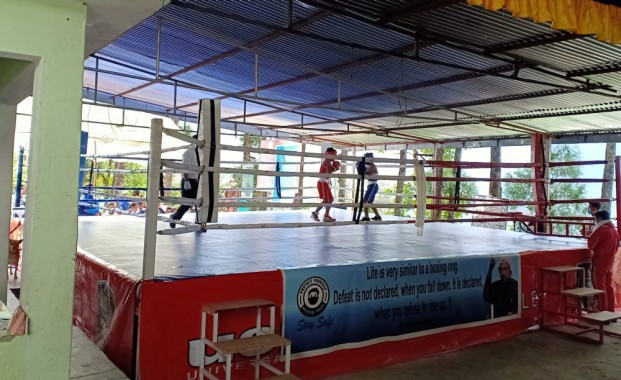 Saturday, Oct 17, 2020 11:15 [IST]
Last Update: Saturday, Oct 17, 2020 05:41 [IST]
Boxing ring installed at Mangshila
SE Report
GANGTOK: The online boxing coaching camp organised by Amateur Boxing Club of Mangshila concluded Thursday with a valedictory function at Mangshila, North Sikkim, an IPR release from Mangan informs.
On the occasion, a newly installed boxing ring was also inaugurated.
The function held at Mangshila Panchayat Bhawan was attended by Sports minister Kunga Nima Lepcha as the chief guest, Sports secretary Kuber Bhandari as the guest of honour, boxing coaches of Sports department and SAI, dignitaries and local public.
The programme started with a welcome address by a member of Amateur Boxing Club of Mangshila. He briefed on how the boxing started in their locality.
Arjuna awardee Jaslal Pradhan applauded the organizers for their efforts on promoting boxing as a sport by installing a standard boxing ring at Mangshila.
The boxing ring was inaugurated by minister Lepcha in the presence of other dignitaries.
Prabin Limboo, who has been voluntarily serving as a coach in the area, was presented with letter of appreciation by organizers. This was followed by distribution of cash prizes to the winners of online boxing competition, recently organized and funded by the Sports department.
Sports secretary Kuber Bhandari appreciated the organizing committee for installing aninternational standard boxing ring. He also highlighted department's plan to hold advance boxing coaching in Sikkim under Khelo India scheme.
The minister, in his address, assured to fulfil all the pending works of the Mangshila block and thanked all who contributed for the promotion of sports at Mangshila.
Later,a team of Sports department led by the secretary inspected the site for the construction of boxing hall, the release mentions.