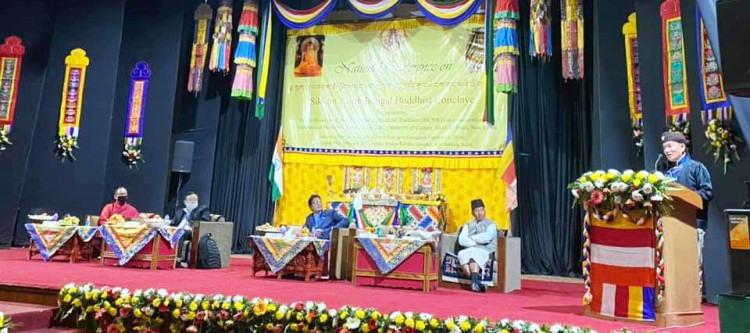 Wednesday, Feb 24, 2021 07:00 [IST]
Last Update: Wednesday, Feb 24, 2021 01:19 [IST]
Buddhist conclave concludes
GANGTOK,(IPR): The two-day national conference on 'Sikkim-North Bengal Buddhist Conclave' held at Manan Kendra, Gangtok concluded today.
The conclave was organized by Indian Himalayan Council of Nalanda Buddhist Tradition (IHCNBT) in collaboration with International Buddhist Confederation (IBC), Ministry of Culture and supported by Ecclesiastical department.
During the conference, many renowned academicians presented their papers and presentations. Also, local scholars from Sikkim got opportunity to share their knowledge.
On the second day of the conclave, various resource persons spoke at length about the importance of Nalanda Buddhist tradition and how to preserve it. The main idea behind this conclave was to come together, know each other and to find out the strengths and weaknesses. The platform has the potential to draw people from different places following Buddhism in different ways to connect and discuss issues and challenges and to look forward for collaboration, cooperation and to sustain culture, heritage, language and faith.
The programme concluded with cultural presentations along with distribution of certificates to the participants of the conclave.
The conclave came to an end with the vote of thanks proposed by Karma Choden Bhutia, assistant director, Ecclesiastical department.