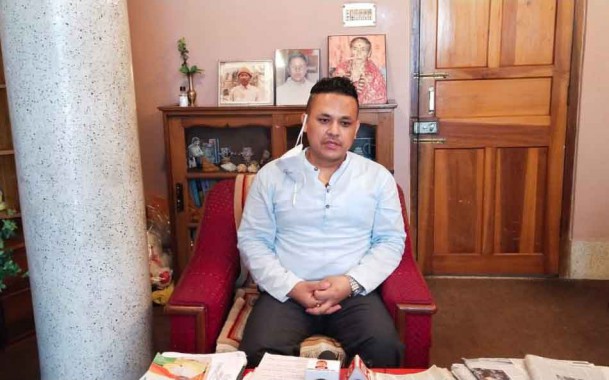 Thursday, Aug 06, 2020 14:00 [IST]
Last Update: Thursday, Aug 06, 2020 08:07 [IST]
Cancel 1,600 illegal appointments, regularise OFOJ staff: Nawin Kiran
Staff Reporter
GANGTOK: Socio-political activist Nawin Kiran Pradhan has taken exception to the alleged appointment of 1,600 candidates under the State government over the past one year.
Terming the recruitments as illegal, Pradhan today served a 100-day ultimatum to the SKM government to withdraw the appointments.
Pradhan, the vice-convenor of Sikkim Subject Committee (SSC), told a news conference that the State government must immediately withdraw the appointments of the 1,600 candidates and also regularise employees recruited under One Family, One Job (OFOJ) scheme within 100 days else he would approach the High Court seeking justice for such employees.
Citing a RTI reply, Pradhan claimed thatover 1600 employees have been appointed illegally in a span of one year by the government. "This is highly unfair to the unemployed youths who did not even got an opportunity to appear for these posts. The employees receiving monthly salary of more than Rs. 20,000 should be immediately fired. The ones working below this pay scale may be allowed to work for the next 100 days for now. However, after 100 days, the government must declare open recruitments for all the 1,600 posts," he stressed.
Hitting back at the government, Pradhan alleged the SKM government of having fooled the public and proving to bring "biased"Parivartan in the State. They have violated the Constitution by making such illegal appointments with salary ranging from Rs. 8,000-Rs.90,000, heexpressed.
He recalled how the ruling SKM in its election manifesto had promised to provide employment to all the unemployed youths and also regularise the OFOJ employees within 100 days of coming to power.
Responding to SKM spokesperson Jacob Khaling's recent statement, Pradhan criticised the SKM for failing in keeping their promises made to the public.
"OFOJ was a public welfare scheme by the former government. SSC had welcomed this decision. We had submitted a memorandum to the Governor asking to maintain its transparency as well as regularisation of the employees when the scheme was announced back then," he added.
"We believe in Constitution which states that everyone should get equal opportunities. We have cancelled many illegal appointments. I will fight this fight for our unemployed youths and will file a case and fight it myself in the court if required," he announced.