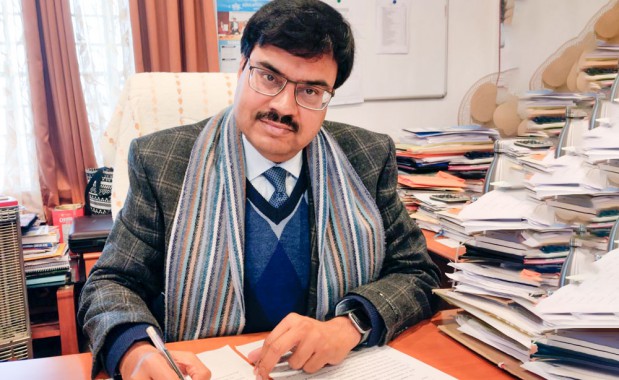 Thursday, Feb 13, 2020 14:45 [IST]
Last Update: Thursday, Feb 13, 2020 08:48 [IST]
CBSE board exams starting Saturday
Over 16,000 students to appear CBSE exams in Sikkim this year
KUNAL RAI
GANGTOK: Around 9,983 students of class X and 6,774 students of class XII in the State are set to appear the board examinations being conducted by the Central Board of Secondary Education (CBSE) starting February 15.
In the 37 examination centres spread across the State, those appearing class X examination are from 241 schools and the class XII students come from 88 senior secondary schools, informed State Education department additional chief secretary G.P. Upadhyaya to SIKKIM EXPRESS today.
Ahead of the examination, Upadhyaya expressed that the overall performance of the students would improve given their preparations and the winter coaching camps organised by the department and various other organisations in the State.
"Last year, there were good number of students in both X and XII who secured 90 percent marks and above and we are sure looking at the preparation of the students appearing that the overall results of the State will be equally good. The pass percentage last year in class X was close to 70 percent and in XII, it was about 80 percent. We are hopeful that the percentage this year will rise at least by 7-10 percent," he said.
Upadhyaya also stressed that students have to study hard, teachers have to teach the students properly and parents have to support their children so that the student avails holistic education and becomes a good citizen in future. He also requested the parents to at least spend half an hour every day with their kids so they become close to each other and know their success and failures on a daily basis. He went on to say that the parents need to encourage their children even if they do not do well in the boards considering better results in future.
Conveying best wishes to the board exam appearing students, Education minister Kunga Nima Lepcha said, "Board examination is very important for every student with respect to shaping their career. I wish the students to come out with flying colours from this examination as they are the torch bearers of the State in future. I am also very sure that the students will also shine the name of education imparted in the State with their performance in the examination nationally too."
The minister mentioned that till date, these students in Sikkim were competing in State level examinations only but with the board exams they will be entering a new phase as they now have to compete at the national level.