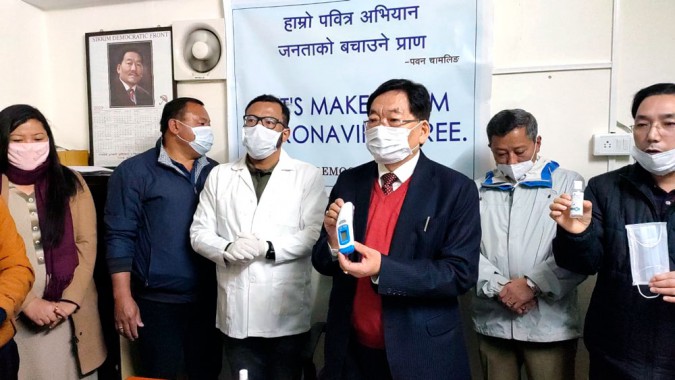 Tuesday, Mar 24, 2020 12:15 [IST]
Last Update: Tuesday, Mar 24, 2020 06:38 [IST]
Chamling launches SDF's COVID-19 prevention campaign
KUNAL RAI
GANGTOK: The Sikkim Democratic Front (SDF) party has also come forward in the fight against COVID-19 in the State. Apart from making people aware of the deadly global pandemic, the party today launched a Statewide programme for distribution of thermal scanners, awareness pamphlets, face masks and hand sanitizers.
Former Chief Minister and SDF president Pawan Chamling launched the initiative at SDF head-office, Indira Byepass road here today.
Speaking on the occasion, Chamling said the entire globe is under the threat of coronavirus (COVID-19) and Sikkim is also not free of the virus threat.
"The people of Sikkim are in fear of the virus and we all must come together to safeguard the people of Sikkim fight against this virus. We have prepared a small pamphlet carrying valuable message to be distributed amongst the general mass to make them aware of the virus and its prevention. We have also started a small gesture of distributing face masks, hand sanitizers and thermal scanners across State from today as small contribution and a mission to safeguard the general masses from the virus," added Chamling.
According to the former Chief Minister, the initiative is to generate awareness amongst the people on their safety, precautionary measures to be adopted and save themselves from this virus. He appealed to all the party workers, youths, chelis including panchayats to generate mass awareness on the virus and follow all precautionary measures to check the virus in the State.
Prior to the Assembly Budget session, Chamling informed that he would attend the session starting today.
"There are many issues which had to be raised in the session but due to the coronavirus outbreak, the session of the Assembly has been reduced to only two days. However, I will try to raise as many issues as possible concerning the State even during this short period in the Assembly," he said.
Commenting on media being debarred from attending the session, Chamling said the move showed the character of the ruling party as it does not believe in the Constitution and democracy. "The restriction imposed on the fourth estate is completely against the constitution. Debarring the media in this Assembly session will create a vacuum and restricting media from doing its duty is an injustice by the government," said Chamling adding that the pretext of limiting number of visitors in the wake of COVID-19 outbreak was untenable.