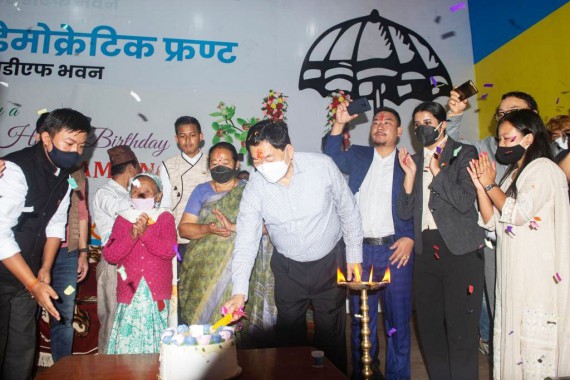 Thursday, Sep 23, 2021 05:45 [IST]
Last Update: Thursday, Sep 23, 2021 00:16 [IST]
Chamling turns 72, spends day with party workers at SDF Bhawan
BIJOY GURUNG
GANGTOK,: Former Chief Minister Pawan Chamling on Wednesday turned 72 years, a day which he celebrated spending time with his well-wishers and SDF workers at SDF Bhawan here.
Party workers from different parts of the State arrived at SDF Bhawan and offered khadas and their best wishes to Chamling. On his part, Chamling exchanged few words with each well-wisher and thanked them for their best wishes.
A birthday cake was also cut followed by a couple of songs as part of the birthday celebration.
Interestingly, Chamling chose not to address the gathering. Instead he received each party worker and well-wisher individually, took photos with them and shared some words with them.
It was one of the rare party functions of this level that the SDF president opted out from delivering a speech.
Later, the media also unsuccessfully tried to extract some statements and message from the former Chief Minister. Around three questions were asked which was responded with silence and hand gestures of refusal.
To the first question, Chamling, who was wearing a facemask, put his finger on his lips to communicate that he would not be commenting. To the next question, Chamling gave the same response with a shake of his head.
To the last question on his message to the people of Sikkim, Chamling only offered his folded hands into a 'Namastey' and rested them on his bowed forehead four rapid times.
When asked why no speech or media statements were given, SDF spokesperson Krishna Kharel said the party president wanted to spend his special day with the people and party workers in a different manner.
"Our leader simply wanted to spend his birthday with the people and receive their love. There is no other reason than this. He has been regularly expressing his thoughts and comments on many issues but today, it was a festive day and he wanted to celebrate it with the people rising above party politics. In coming days, he will interact with the media but today it was limited to a festive day," said the SDF spokesperson.