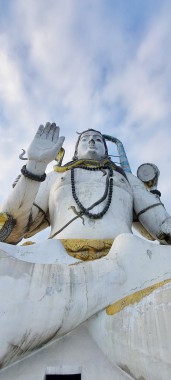 Wednesday, Dec 08, 2021 08:00 [IST]
Last Update: Wednesday, Dec 08, 2021 02:19 [IST]
Chardham management responds to negligence allegation
NAMO DIXIT
NAMCHI,: Responding to the recent social media post alleging negligence on the maintenance of Shiva statue at Solophok Chardham, the centre management today said the social media post, which has been widely circulated, didn't get the facts right.
"The social media post highlighting the issue has completely failed to understand the facts related with Chardham in Solophok by using a picture of the statue and marking a portion where weed are seen," the management said today.
Narad Sharma, the head of Chardham administration, informed that they had already submitted a file to the government seeking necessary assistance and support for renovation of the premises.
"The cleaning and similar other works will be conducted in Chardham when the dham administration and the management committee finds suitable, since it is difficult to find labourers who can undertake these works. It is a challenging task to clean such a huge statue," Sharma said. He added that the heavy rainfall of monsoons had resulted in the present condition of the statue which is the main attraction of the Chardham, a popular pilgrimage and cultural centre.
Sharma added that the dham management relies on funds generated through tourism for the functioning of the centre and due to Covid lockdown, when lesser tourists visited, they had financial setback for maintenance works.
"There are no major faults or cracks in the statue, just a slight touch up and painting is required. The upkeeping of the premises is a continuous process which has to be monitored with detail, with its huge area and a massive statue which is more than a decade old. In the recent past years the pilgrimage site underwent renovation wherein lord Shiva's statue was repainted followed by works on controlling seepage of water in the main shrine. Recently, keeping in mind the much needed initiative to upkeep the structure, a file was processed for granting of necessary financial aid from the government which has been positively looked upon by the government," informed Sharma.
He added, "The social media post was irresponsibly carried out without putting any effort to contact concerned officials and committee members. The post portrayed the wrong side of the story. The concerned person should have contacted me to get the details before posting it on social media platform; I could have narrated the story with much needed clarification."
The main managing committee of Chardham includes the Chief Minister as its chairman, and Tourism minister, Tourism secretary, Namchi Municipal Council chairman and south district collector among others as members.