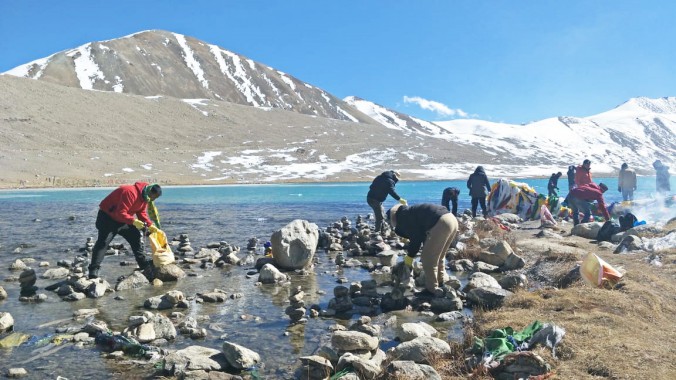 Wednesday, Dec 08, 2021 08:00 [IST]
Last Update: Wednesday, Dec 08, 2021 02:17 [IST]
Cleanliness drive at Lake Gurudongmar
GANGTOK,: As a part of the yearly and routine clean-up, Lachen Tourism Development Committee (LTDC) with support from Dzumsa and Lachen Hotel Association conducted a massive cleanliness drive at holy Gurudongmar Lake and its catchment on Monday. The LTDC has been regularly working for the conservation and management of Gurudongmar lake considering its religious and environmental value and as an asset for the Lachengpa community.
Wastes like empty cigarette packets, tetra packet, PET bottles (coke/sprite), and chocolate wrappers were collected during the cleanliness drive. But most concerning was the numerous disposable masks collected from the lake catchment, informed the LTDC in a press statement.
LTDC president C. Lachenpa said "Single-use mask are a great concern to us, these are made from pp material which is also another form of plastic and will surely make a bad impact especially in a place like Lake Gurudongmar and its catchment, which has both religious values and rich biodiversity values, we surely need to look at options for the same in future".
With the ban of packaged drinking water, only two empty bottles of packaged drinking water were collected from the vicinity of the lake, which also mentions that the strict monitoring of LTDC along with Dzumsa for not allowing use of PET water bottles has been impactful supporting the ongoing ban, said the LTDC.
The waste collected were brought back to Lachen village by the members which were further segregated and recyclables were stored in the resource recovery unit and rest were taken to the nearest landfill near the village.
The cleanliness programme was to create an awareness on the waste generation and management and also create a way forward to ensure no littering in Lake Gurudongmar in the coming future, said the LTDC.