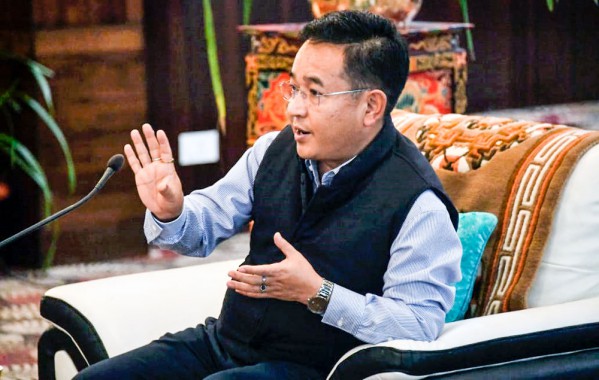 Saturday, Mar 28, 2020 13:30 [IST]
Last Update: Saturday, Mar 28, 2020 07:26 [IST]
CM announces relief package for economically weaker sections
GANGTOK (IPR): Chief Minister Prem Singh Tamang (Golay) chaired a high-level meeting of the State Task Force for Covid-19 prevention here at Samman Bhawan here today. The meeting was convened to take stock of the preparedness of the State, and to come up with immediate measures to provide relief to the people in the wake of the 21-day lockdown throughout the country to contain Covid-19 pandemic.
After thorough deliberations, the Chief Minister announced an economic package to provide immediate relief to the economically weaker sections of the Sikkimese population.
As per the package, three or more-member families whose members are not entitled to a government job will be provided relief by the State government in the form of rice (20 kg), dal (5 kg), cooking oil (5 ltr), salt (1 kg), potato (7 kg) and onion (2 kg).
Similarly, for two or less-member families whose members are not entitled to a government job will be provided with rice (10 kg), dal (2 kg), cooking oil (2 ltr), potato (5 kg) and onion (2 kg).
Daily wage of Rs. 300 will be provided to the labourers working in all pharma companies functioning in the State throughout the period of the lockdown.
The State government also announced a one-time lump-sum monetary incentive of Rs. 3000 for Sikkim Police personnel actively engaged in screening and maintaining law and order for the prevention of Covid-19, all workers under Health department posted in hospitals and check posts and engaged in screening and prevention of Covid-19, all truck drivers under Transport department engaged in emergency duty for transportation of essential commodities during the lockdown period, and Safai Karmacharis under Urban Development department on duty during the lockdown period.
The State government has also decided to provide insurance to all these frontline warriors. Further, the State government has permitted the State Bank of Sikkim to allow three-month moratorium on all loans.
The Chief Minister appealed the people of Sikkim not to panic with regard to food supplies during the lockdown as the State government has stocked ample food supply for the next two months. In case of any requirement of food and essential commodities, people have been requested to approach their respective BDOs or other designated officials.
The Chief Minister also called for strict compliance of all the orders and circulars issued by the government in view of the 21-day lockdown and urged for cooperation from the public in order to successfully contain the local transmission of Covid-19 in the State. He requested all to abide by the lockdown and stay home. He reassured the people that the government is fully prepared to tackle the situation. He lauded the efforts being made by frontline workers who are risking their lives to ensure the safety of the people of Sikkim, and appealed to the people not to let their efforts go in vain.