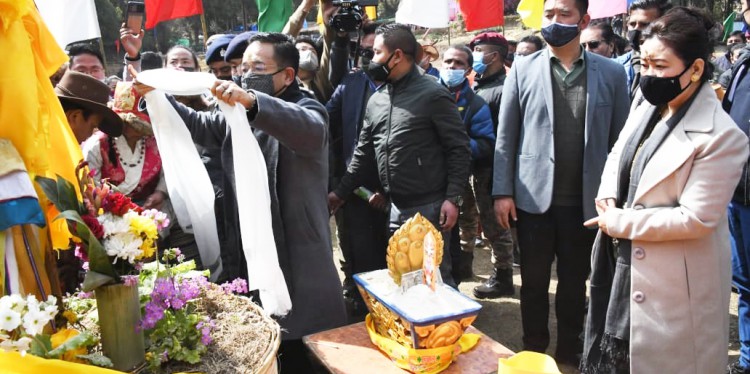 Saturday, Feb 20, 2021 08:15 [IST]
Last Update: Saturday, Feb 20, 2021 02:41 [IST]
CM assures all support for tourism development of Temi-Namphing
GANGTOK,: Chief Minister P.S. Golay on Friday attended the Rukum Taar Eco-Village Tourism-cum-Sherpa Losar Festival 2021 at Ganchung, South Sikkim under Temi-Namphing constituency. He was accorded a warm and traditional welcome by the people of the area and the organizers.
Rich culture, heritage and traditions have always been the hallmark of our State, shared the Chief Minister in his social media page regarding his visit to Ganchung.
Addressing the gathering, the Chief Minister congratulated the organizers and the people from the area for doing a commendable job by organizing such a beautiful and colourful program. He added that such festivals will give recognition to this small hamlet, which has all the potential to become a tourist destination. It has been the policy of our government to develop and give maximum attention to those places which has been neglected and left out till now, he said.
"It was also very encouraging to see the participation of local people in the festival and I urged and encouraged them to continue the good work and follow the slogan of 'vocal for local' religiously," said Golay.
Golay further shared through his social media post that he spoke about how the State government is committed to fulfilling the promises made to the people. I informed the gathering that it was our government who gave a cabinet berth to the MLA from Sherpa community, none of the previous governments had done this and termed it as historic, he posted.
"I also informed the gathering that due to the global pandemic of Covid-19 lots of bottlenecks was created in our developmental works, but we did not make it an excuse but worked conscientiously and took it as challenge, to fulfil the promises we had made to our people. Therefore, during this short period of time our government was able to do so many things which the previous ones had lacked", said the Chief Minister.
The Chief Minister spoke in length how the State government is youth centric and always ready to extend all the help and support to the enterprising youths and younger generation of Sikkim. I informed them about Skilled Youth Start up program a scheme which will help and encourage our youths to become an entrepreneur, he posted.
"I also assured that our government will fulfil all the demands placed by the people of Ganchung and will do everything possible to develop the area as well as whole Temi-Namphing constituency, which has a great potential to be a very attractive tourist destination and also assured financial assistance for two monasteries of the area," shared the Chief Minister.
The Chief Minister and the dignitaries also witnessed an entertaining football match between the local clubs and a colourful cultural extravaganza on the occasion.