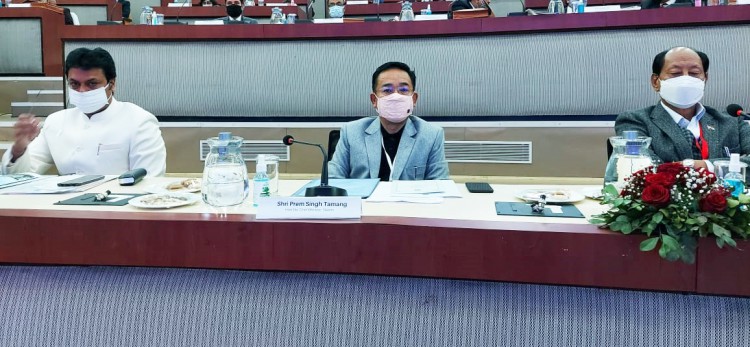 Monday, Jan 25, 2021 06:45 [IST]
Last Update: Monday, Jan 25, 2021 01:18 [IST]
CM attends NEC plenary session, highlights Sikkim issues
GANGTOK,: Chief Minister P.S. Golay attended the 69th Plenary Session of the North Eastern Council held at the NEC Secretariat, Nongrim Hills, Shillong on Saturday.
In his brief address, the Chief Minister highlighted key points concerning Sikkim, informs a CMO press release.
Golay added that the poor quality of the internet in the State proved to be a hurdle in carrying out several essential services like administrative functioning, medical support and education. He expressed the immediate need for upgrading the internet bandwidth in the State from 10 Mbps to 1 Gbps.
The Chief Minister also urged for the North East Industrial Scheme of 2018 to be extended by another 10 years adding that it has been beneficial for the region and has brought changes in the structure and the growth pattern of the State's gross domestic product.
The Chief Minister affirmed that the pandemic affected various sectors due to which only 45% of the budgeted cost was utilised till December 2020 in the State, the release mentions. In this context, he mentioned that the State government had written to the Ministry of Finance in October 2020, requesting for the acknowledgement to impose a nominal Covid cess on the output of organised manufacturing industries dominated by the pharma units and the hydro-electric sector in the State and the responses from the ministry is still awaited.
Acknowledging the external concerns of the country and the strain on its resources, Golay added that Sikkim, being a landlocked State has fewer options to manoeuvre and hence requested for the intervention of the Union government to reduce the shortfall of the transfer of Central devolution which the State has only received 47% (by December 2020) as against the projected and allocated devolution of 75%.
Towards the end, the Chief Minister expressed his delight and thanked the scientific community for the vaccines and hailed it as a proud moment for the country as both the vaccines are made in India, setting a shining example of Atmanirbhar Bharat. He also expressed his gratitude towards the Prime Minister for his timely guidance and concern towards the country.
Union Home minister Amit Shah was present along with DoNER minister Jitendra Singh, Chief Ministers and dignitaries from the North East States, and other officials.