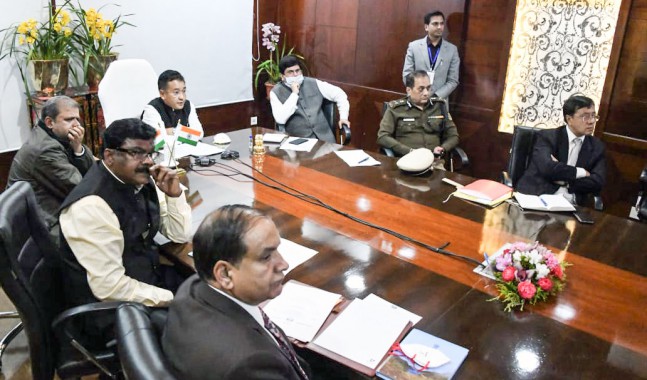 Friday, Apr 03, 2020 14:00 [IST]
Last Update: Friday, Apr 03, 2020 08:01 [IST]
CM attends video conferencing with Modi
Next few weeks crucial, appeal for cooperation from all: CM
SE Report
GANGTOK: Chief Minister P.S. Golay today attended the video conference of Prime Minister Narendra Modi with all the Chief Ministers regarding the ongoing national lockdown and coronavirus outbreak.
In his social media page, the Chief Minister shared that the Prime Minister gave strict guidelines to the head of all the States to tackle the recent outbreak of the disease in the country.
The Prime Minister advised all the Chief Ministers to observe lockdown in their respective States and ensure that people are following it. Further, he also directed the head of the States to look after the facilities and make sure there is no shortage of essential commodities.
"The State Government has adopted every preventive measure and I once again would like to inform everyone that we have 3 months' worth of essential products in our State. We are also focussing on isolating and quarantining those who have recent travel history outside Sikkim. We have also provided test facilities for doubtful cases," posted the Chief Minister.
"Due to the recent casualty of coronavirus disease at Kalimpong and with few more positive cases, we have increased the security in our checkpoints and have directed officers to provide frequent reports. I also urge the NGOs and the people to be cautious and more vigilant," said Golay.
"With the collective effort of the people and the Government, we have been able to contain the disease from entering Sikkim. The next few weeks are crucial for our State and I urge everyone to co-operate and observe social distancing to keep Sikkim COVID-19 free," said the Chief Minister.