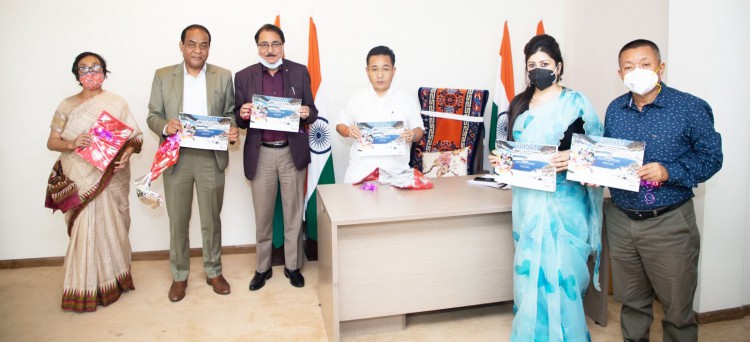 Thursday, Sep 23, 2021 06:00 [IST]
Last Update: Thursday, Sep 23, 2021 00:18 [IST]
CM chairs meeting for proposed film city & Global Film Festival
GANGTOK, (IPR): Chief Minister Prem Singh Tamang chaired a meeting regarding the proposed film city at Yangang, and the Global Film Festival scheduled for the month of December 2021, at his official residence in Mintokgang today.
The meeting was attended by Tourism minister B.S. Panth, IPR advisor Birendra Tamling, Sikkim Film Promotion Board chairperson Pooja Sharma, IPR secretary Siporah G. Targain, Tourism principal chief engineer Prakash Chettri, IPR director Benu Gurung and other officials.
A detailed presentation on the project was made before the Chief Minister.  
The Chief Minister appreciated the efforts of both the departments and the Sikkim Film Promotion Board, and suggested 'Eco Heritage Film Village' as the nomenclature for the upcoming infrastructure.
On the occasion, the Chief Minister released a book titled 'Sikkim - 100 Film Shooting Destinations', produced by the Sikkim Film Promotion Board.
A documentary film 'Bhumchu' produced by the IPR Department was also screened on the occasion.